Updates
Henry Cavill Grows Beard in Seconds in Odd Movie Scene


GET TOP STORIES VIA INBOX
A scene from the movie "Mission: Impossible – Fallout" has caused a sensation on social media, as it appears to show Henry Cavill, who plays August Walker in the film, growing a beard in a matter of seconds.
The scene in question shows Cavill preparing to fight by throwing a few test punches, seemingly reloading his arms, and walking forward.
As he walks, his beard looks to be getting thicker with every step.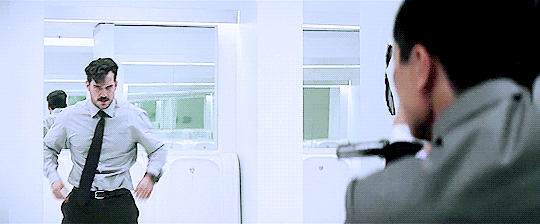 The phenomenon was first noted by April Reign, who tweeted, "There's a scene in Mission Impossible: Fallout @MissionFilm in which Henry Cavill has a growing in beard, then he doesn't, then he does again. In… seconds. I thought I was imagining it," she also noted that his shirt also seems to grow a pocket during the scene.
Many have taken to social media to express their amazement at the scene and have offered possible explanations for the illusion.
One Twitter user wrote, "He's moving from direct light into a slightly darker shadow, and the movement of his arms stretches and relaxes the shirt."
Cavill himself has also weighed in on the matter, giving an explanation for the growing beard when he spoke to Fox32News' Jake Hamilton.
He said, "It's because I punch so hard when reloading my fists that I actually grew a beard in that moment. I made facial hair history."
The incident has brought to light the controversy surrounding Cavill's facial hair during the production of "Mission: Impossible – Fallout".
Cavill actually grew a mustache for his role in the film, but wasn't able to shave it when it came time for extensive Justice League reshoots. As a result, Warner Bros. had to digitally remove his mustache from the scenes.
Back in May, Cavill addressed the mustache drama in an interview with Empire.
He said, "When we decided to go for the mustache, I certainly wasn't expecting all the events to unfold as they were going to unfold. I wasn't expecting Justice League reshoots to be as extensive as they were."
He went on to explain, "As you will see when [Mission] comes out, to have a fake mustache on would not have been a possibility."
The incident has caused quite a buzz on social media, with many praising Cavill's acting skills and the special effects team behind the scene.
Some have even gone as far as to call it a cinematic masterpiece.
The scene in question has sparked a lot of conversation and debate on social media, with many people sharing their theories and opinions on how the illusion was created.
Popular Posts:
MUST READ:

GET TOP STORIES VIA INBOX