Updates
Is Ariana Grande dying? Shock weight loss worries fans


GET TOP STORIES VIA INBOX
Ariana Grande has responded to concerns raised by fans over her weight in a post on TikTok.
The singer, who had recently posted a photo of herself on Instagram wearing a sleeveless black minidress, said that her body was "the healthiest it has been in a long time" in a three-minute plus video on TikTok.
"I just wanted to address your concerns about my body and talk a little bit about what it means to be a person with a body to be seen and paid such close attention to," she said.
Ariana went on to say that there are "many different ways to look healthy and beautiful," and that the body her fans were comparing her current body to was actually "the unhealthiest version" of herself.
She explained that at that time, she was taking antidepressants and drinking, and was eating poorly.
"But in fact, that wasn't my 'healthy,'" she added.
"Healthy can look different."
The star urged fans to be more considerate in their comments about people's bodies.
"We should be gentler and less comfortable commenting on people's bodies, no matter what.
"Even if you think you're saying something good or well intentioned," she said.
"You never know what someone is going through, even if you are coming from a loving place.
"That person is probably working on it or has a support system."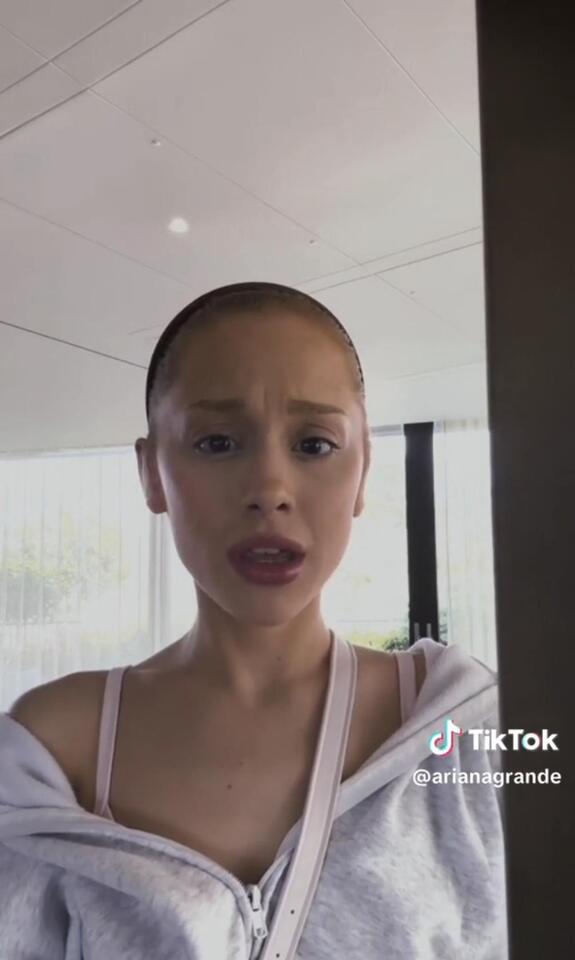 Ariana also addressed a specific concern raised by fans that she was wearing too much eyeliner or eyelashes in the video, saying that "this is my face, these are my eyes so don't freak out about that now too please."
The "Don't Look Up" star has been away from the public eye for several months as she prepared for her role as Glinda in the movie production of the Broadway smash "Wicked." The film began production in December 2022 and is scheduled to be released in 2024.
The reaction to Ariana's Instagram post on April 10th had been mixed, with many fans expressing concern over her weight.
One fan commented, "She's gorgeous as always but I'm really worried for her… she's always been thin but lately she's been way thinner than normal." Another fan urged Ariana to "stay healthy."
In her TikTok video, Ariana reiterated that people should not make assumptions about others' health or appearance.
"Let's please not make assumptions about people based on their size," she said.
"Just because someone looks physically healthy doesn't mean they are healthy in all aspects of their life."
Ariana's message was met with support from fans and fellow celebrities, including Khloé Kardashian, who commented on the video: "This!!!" followed by several heart emojis.
The singer's post on TikTok is part of a larger movement towards body positivity and self-acceptance that has been gaining momentum in recent years.
Celebrities such as Lizzo and Jameela Jamil have been vocal advocates for the movement, encouraging people to embrace their bodies and reject harmful societal standards of beauty.
As for Ariana, she ended her video with a positive message for her fans: "I love you guys. Thank you for being here for me and for each other."
Popular Posts:
MUST READ:

GET TOP STORIES VIA INBOX