Updates
Chris Hemsworth Says His Wife Hates His Sculpted 'Thor' Muscles: 'Too much'


GET TOP STORIES VIA INBOX
Elsa Pataky, the wife of Chris Hemsworth, did not like the muscle he put on for his leading part in Thor: Love and Thunder.
The Aussie actor, 38, who took on the mantle of the Asgardian hero in 2011's "Thor," bulked up more than ever before for his role as the long-haired dreamboat in the latest installment.
But not everyone liked the new appearance.
Hemsworth described his wife's response to his physique to USA Today, "My wife was like, 'Bleh, it's too much." "There are a lot of my male friends who are like, 'Yeah!' but a lot of female friends and family are like, 'Yuck.'"
The Marvel actor said that Covid was to blame for his particularly muscular physique in the most recent movie.
"It came from boredom," he stated. "Sitting in Covid lockdown was like a prison. It was train, eat, train, eat. Nothing else to do. Then I turned up for the film bigger than I've ever been."
Even the director of the film, Taika Waititi, noticed his bulky muscles stating, "It's crazy how big Chris got for this." He continued, "He's huge already, but when I saw his arms, they were twice as big as normal, as wide as my head. Trainers and stuff are asking me how he does it? But it's all natural."
Apart from Chris Hemsworth, the film also stars Tessa Thompson, Christian Bale, Chris Pratt, Jaimie Alexander, Pom Klementieff, Dave Bautista, Karen Gillan, and Sean Gunn, among many others.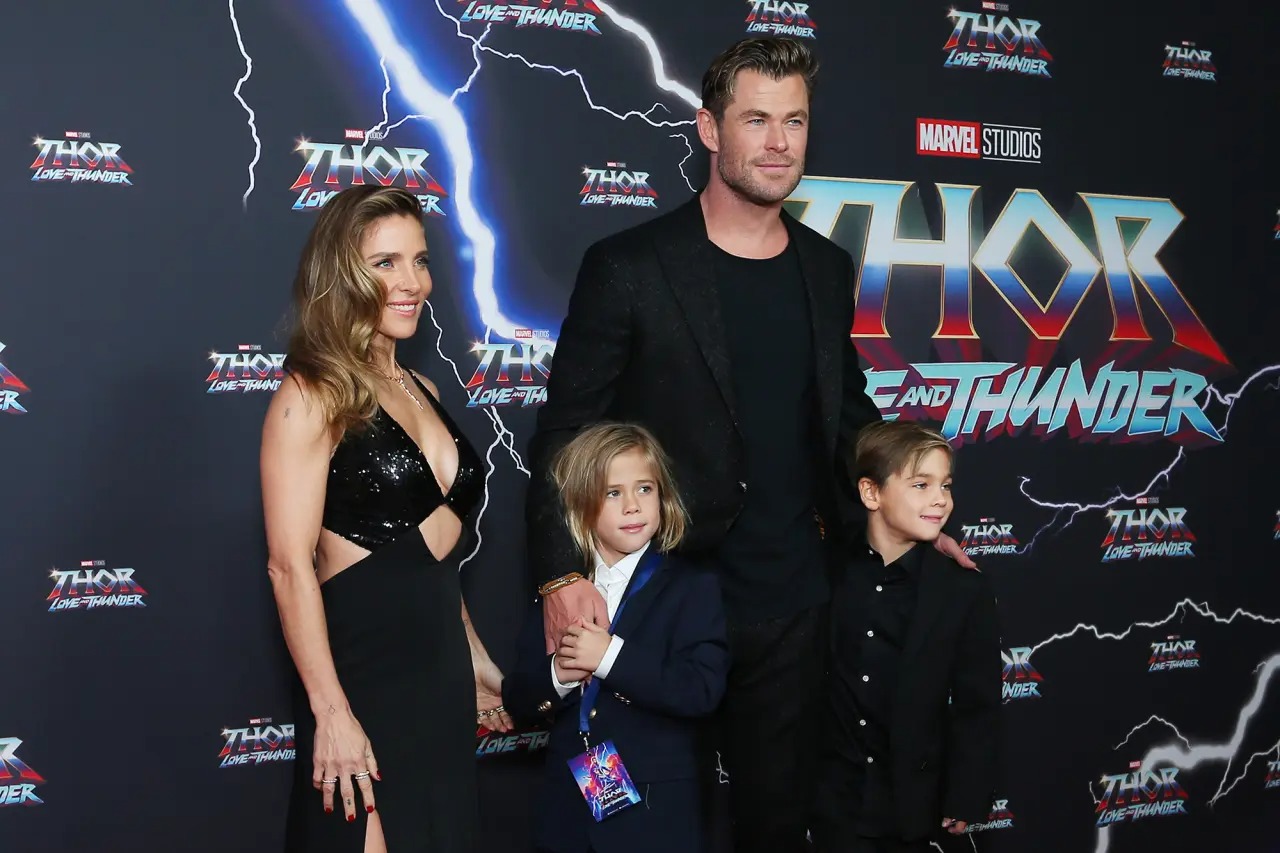 Page Six recently revealed how much work went into achieving the bulked-up look.
"Chris takes it very, very seriously, and the shape he gets into, it's phenomenal," Hemsworth's longtime stuntman Bobby Holland Hanton, who has been the actor's stunt double in over 10 movies, revealed.
"There's a real process that goes into achieving these goals. But I think over the last 10 years, we've managed to come up with ways to do that."
Hemsworth's trainer recently revealed that the Australian actor eats eight meals a day in order to maintain a calorie load sufficient for all his weight training.
Last year, Hemsworth's body double expressed his exasperation at having to keep up with the 38-year-old actor's intense diet and workout regime.
Holland Hanton – who has been Hemsworth's body double since Thor: The Dark World in 2013 – said during an Australian TV interview: "I don't enjoy [the] eating at all."
He continuedP "Everyone is like, 'Wow, look at the size of [Hemsworth]', but I text him like, 'Thanks very much dude, you've just made this even harder!"'
Guardians Of The Galaxy Vol. 3 will see the film series' main cast, including Chris Pratt, Zoe Saldana, and Dave Bautista, reprise their respective roles. The movie is expected to follow the events of Thor: Love And Thunder as well as that of Avengers: Endgame. James Gunn wrapped up the film in May, earlier this year and shared a picture with the film's cast. In the caption, he wrote, "And that's a picture wrap on the Guardians of the Galaxy trilogy. I love this amazing cast & crew & their beautiful talent & kind souls. I'm a lucky human to have them on the journey with me for nearly a decade."
Popular Posts:
MUST READ:

GET TOP STORIES VIA INBOX