Updates
Brad Pitt admits he was a problem in his marriage to Angelina Jolie


GET TOP STORIES VIA INBOX
Brad Pitt compared his divorce from Angelina Jolie to a "death," admitting that he is an emotional "retard" whose frequent drinking contributed to the breakdown of his marriage.
Last September, two weeks after the couple's second wedding anniversary, Jolie, 41, filed for divorce. She requested sole physical custody of Maddox, 15, Pax, 13, Zahara, 12, Shiloh, 10, and twins Knox and Vivienne, 8, were the children.
In an extended interview published on Wednesday, the 53-year-old actor told GQ Style that he had stopped drinking, was in therapy, and that he and Jolie were dedicated to addressing their differences peacefully and confidentially.
The frank "Allied" star, who appears on three distinct covers of the magazine, said that many of his recent difficulties were "self-inflicted."
"I hit the lottery and I still would waste my time on those hollow pursuits.
"(The split was) self-inflicted… If you love someone, set them free. Now I know what it means, by feeling it.
He just said, 'Yeah,' when asked whether the previous six months had seemed like he was grieving a death.
Since the incident, the Fight Club star has abstained from booze, confessing that it had become a "problem" in his relationship with Angelina, adding, "'Truthfully I could drink a Russian under the table with his own vodka. I was a professional. I was good.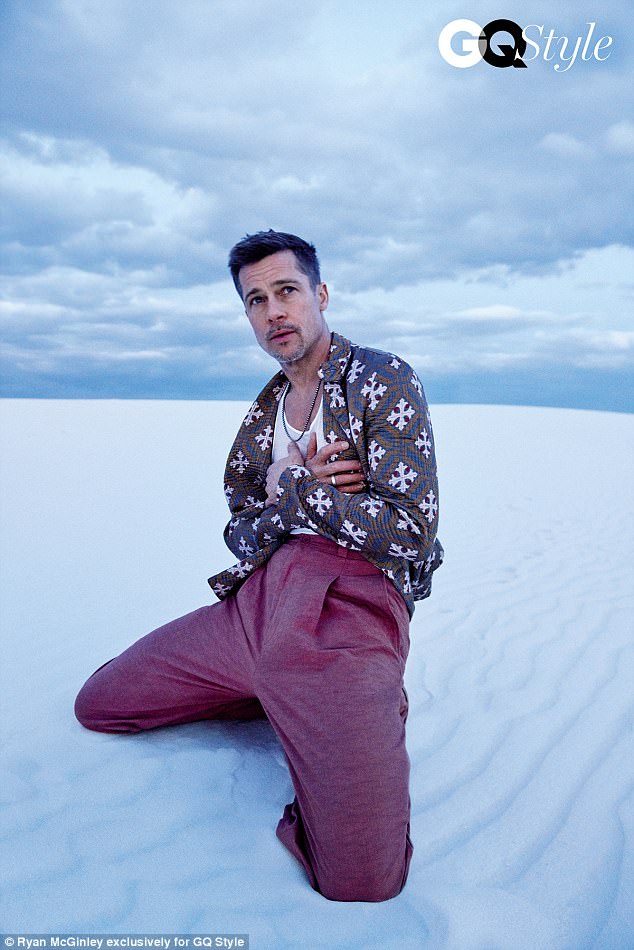 'I was boozing too much. It just become a problem. And I'm really happy it's been half a year now, which is bittersweet, but I've got my feelings in my fingertips again.
'I mean, we have a winery. I enjoy wine very, very much, but I just ran it to the ground. I had to step away for a minute.
"But me, personally, I can't remember a day since I got out of college when I wasn't boozing or had a spliff, or something," said the actor who called drugs and alcohol "pacifiers" that allowed him to keep "running from feelings."
"I mean I stopped everything except boozing when I started my family. But even this last year, you know —things I wasn't dealing with. I was boozing too much," he said. "It's just become a problem."
He's replaced drinking with therapy, saying, 'You know, I just started therapy. I love it. I love it. I went through two therapists to get the right one.'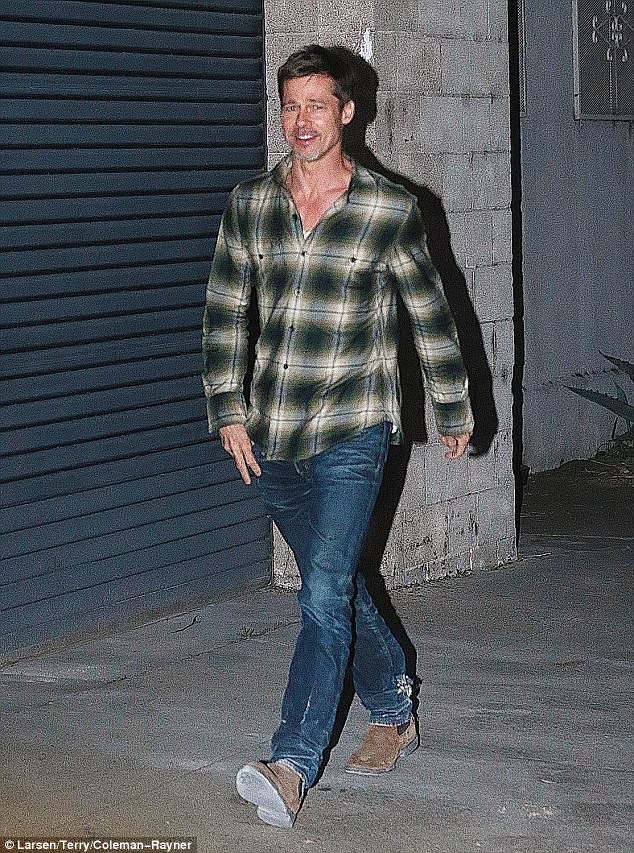 What's his new drink of choice now that he's no longer drinking? 'Fizzy water and cranberry juice. In all of LA, I have the cleanest urinary tract.'
In regards to the divorce, Pitt stated that he and Jolie had opted to forego the route of "vitriolic hatred" and instead work together to resolve their differences.
Pitt claimed that working with his hands gave him comfort. "I'm making everything. I'm working with clay, plaster, rebar, wood."
"I don't really think of myself as an actor anymore," he says of the film industry. "It takes up so little of my year and my focus. Film feels like a cheap pass for me, as a way to get at those hard feelings. It doesn't work anymore, especially being a dad."
How did it all go wrong?
It has been reported that Angelina Jolie hired a private detective to investigate husband Brad Pitt's alleged affair with Allied co-star Marion Cotillard.
According to an insider who spoke to Page Six, Jolie "felt that he was fooling around with her on the set, and it turns out, he was. And that was the final straw."
A source close to Cotillard has denied the claims, stating that she is "very much together" with her director husband, Guillaume Canet.
Jolie's father, actor Jon Voight, has commented on the divorce, saying that "something very serious must have happened for Angie to make a decision like this."
Voight added, "It's very sad. I don't know what it is. Say a little prayer. I am concerned for Angie and the children and hopefully I will be seeing them very soon."
Insiders have also claimed that the couple's different parenting styles contributed to the split. Jolie reportedly did not agree with Pitt's strict approach, while she took a more liberal approach. A source told TMZ that Jolie "was extremely upset with his methods."
An attorney for E! News, Troy Slaten, said that Jolie's request for sole custody of the couple's children "might mean [she] thinks that [Brad] is doing something that is endangering her children."
Additionally, it has been suggested that Pitt's desire to continue living an adventurous and party-filled lifestyle caused tension in the relationship.
A friend of the couple told the Daily Mail that after Jolie's mastectomy in 2013, "her health and life in general became a priority for her. Her views on life changed. Suddenly she saw herself walking in her late mother's shoes – and she was no longer that wild, fun-loving woman she used to be, she was taking things a lot more seriously."
TMZ also claims that Jolie was pushed over the edge by Pitt's reported alcohol and drug use. The website states that Jolie was concerned about Pitt's "anger issues" and his "interactions with the kids," which she believed were "endangering her children."
People reports that Pitt would often retreat to the couple's chateau in France to escape when their fighting became intense. Jolie filed for divorce on 19 September 2016 citing irreconcilable differences.
It is difficult to say exactly how things went wrong for Brad Pitt and Angelina Jolie, as their relationship and breakup were personal and private.
Pitt and Jolie were a well-known and high-profile couple in Hollywood, and their relationship and subsequent breakup received a great deal of media attention and speculation.
Pitt and Jolie first met on the set of the 2005 film Mr. & Mrs. Smith, where they played a married couple who were also assassins.
Despite the fact that Pitt was married to actress Jennifer Aniston at the time, he and Jolie began a relationship during the filming of the movie. Pitt and Aniston divorced in 2005, and Pitt and Jolie continued their relationship and eventually became known as "Brangelina."
Pitt and Jolie were known for their unconventional and unconventional lifestyles. They were often the subject of media scrutiny and speculation, and their relationship was often the focus of gossip and rumors. The couple became known for their frequent travels and humanitarian work, and for their large and diverse family.
Brad Pitt and Angelina Jolie had six children together, three of whom were adopted and three of whom were biological.
In September 2016, Jolie filed for divorce from Pitt, citing irreconcilable differences. The divorce was finalized in April 2019, and Jolie and Pitt have since been involved in a custody battle over their six children.
Popular Posts:
MUST READ:

GET TOP STORIES VIA INBOX