Updates
Amber Heard Petition for Aquaman 2 Removal passes 2 Million signatures


GET TOP STORIES VIA INBOX
Fans of Johnny Depp are clamoring for Amber Heard to be canceled. In the midst of the actor's continuing defamation action, a petition demanding for her removal from "Aquaman 2" has surpassed 2 million signatures.
Heard is the defendant in a $50 million defamation case brought by ex-husband Johnny Depp following a 2018 Washington Post op-ed in which she claimed she had been domestically abused.
Many of the things that Depp has alleged regarding Heard in their current court dispute are included in the official description of the Change.org petition. Heard allegedly hurled a vodka bottle at him, cutting one of his fingertips in the process, among other charges of violence.
According to the petition, Heard "created false accounts of him being the abuser," badly harming Depp's reputation and depriving him lucrative movie jobs, according to the former Pirates of the Caribbean actor.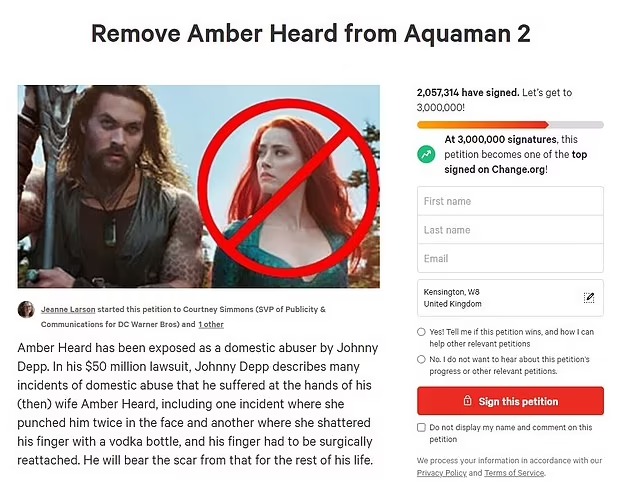 In the Harry Potter spinoff series Fantastic Beasts, he was replaced as the wicked wizard Grindelwald by Mads Mikkelsen in this year's The Secrets Of Dumbledore.
"Do the right thing. Remove Amber Heard from Aquaman 2," implored creator Jeanne Larson in the description of the Change.org petition, which was created in 2020. The purpose of the campaign is to collect 3 million signatures.
The purpose of the petition, as mentioned in the description, is for Warner Bros. and DC Entertainment to pay attention to it and either recast or remove Mera from Aquaman 2.
"As Amber Heard is a known and proven domestic abuser, Warner Brothers and DC Entertainment should and must remove Heard from their Aquaman 2 film project. They must not ignore the suffering of Heard's victims, and must not glamorize a domestic abuser. Men are victims of domestic abuse, just like women. This must be recognized, and action must be taken to prevent a known abuser from being celebrated within the entertainment industry."
It's doubtful that this petition will result in anything, but it's evident that the backlash against Heard's involvement in Aquaman And The Lost Kingdom is becoming increasingly difficult for Warner Bros. to ignore.
Heard will play Mera, the love interest of Jason Momoa's eponymous character, in Aquaman 2.

GET TOP STORIES VIA INBOX