Updates
Kim Kardashian couldn't actually zip up Marilyn Monroe's dress for Met Gala


GET TOP STORIES VIA INBOX
Kim Kardashian couldn't zip up the classic Marilyn Monroe gown she wore to the Met Gala on Monday, so she had to leave it open and cover her backside with a white fur shawl.
The 41-year-old reality actress and fashionista chose something unique this year, wearing a vintage gown by Jean-Louis to correlate with the theme In America: An Anthology of Fashion on May 2nd.
Marilyn last wore the gleaming $4.8 million gown in 1962, when she sang "Happy Birthday" to then-President John F. Kennedy. To make matters even more historic, it hasn't been washed since that day, according to reports.


Kim is seen panicking as she attempts to slip the legendary number over her renowned derriere in a video from Ripley's Believe It Or Not! museum, where she borrowed the gown.
In a video acquired by TMZ, Kim can be heard stating, "Once it gets up, it'll fit the back," while her boyfriend Pete Davidson says, "You're good, relax."
"Should I go to the gym?" she inquired.
The 41-year-old star can be heard saying: 'Oh my god! Yeah, can we use that tie and tie it, and keep it open?'
'Does the tie come with it?' she inquires. 'What if we did that and then put a fur over it.'
Even though they couldn't fully zip it up, Kim was relieved to learn that they could merely knot the back of the dress and cover it with a white fur cloak, almost like Marilyn did.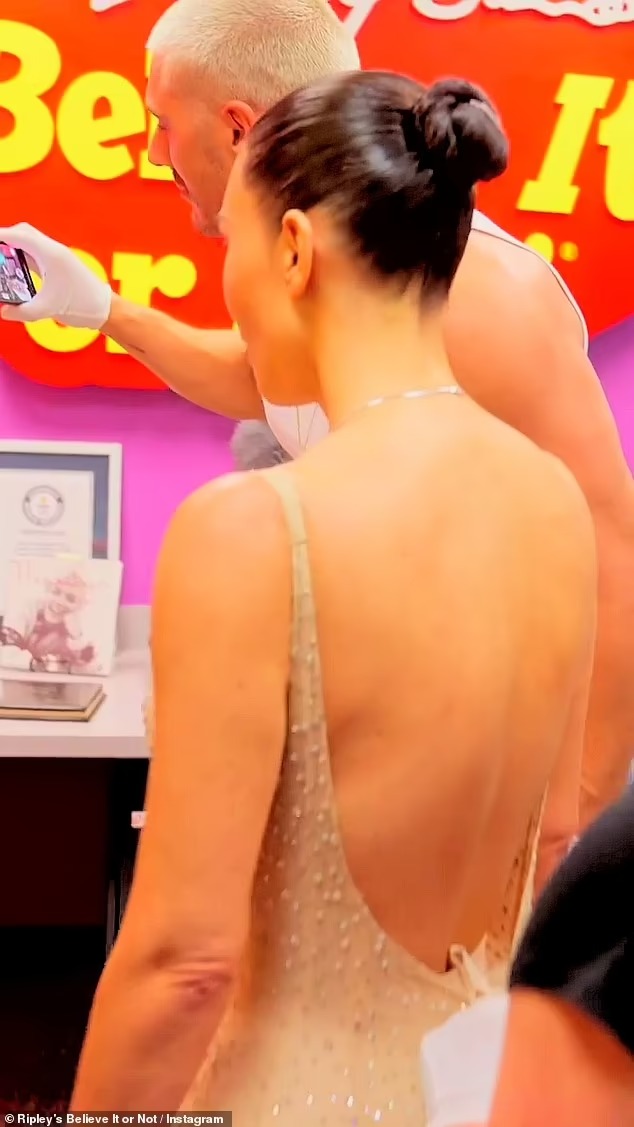 That means Kim wore the garment unzipped while walking the Met Gala red carpet before changing into a replica of the gown once inside the event.
'I'm extremely respectful to the dress and what it means to American history,' Kim told Vogue, confirming that she only wore the original gown for shots on the red carpet steps.
'I would never want to sit in it, eat in it, or have any risk of any damage to it,' she said, adding that she wouldn't be applying the type of body makeup she typically does.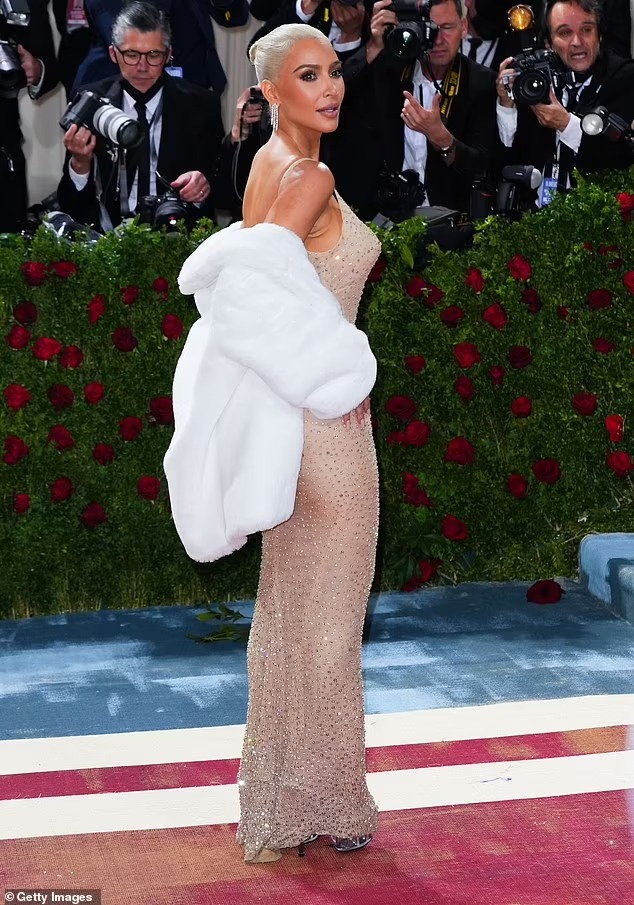 'Everything had to be specifically timed and I had to practice walking up the stairs.'
Kim admitted that she "wanted to cry" when the dress didn't fit the first time she wore it on months before the gala, so she started a stringent diet and workout routine to make it work by the time the Met Gala came around on May 2.
"The dress was transported by guards, and I had to wear gloves to try it on," she said before the star-studded event.
The reality star went on to say that her partner just revealed a new tattoo devoted to her and her children: "I always thought she was extremely curvy. I imagined I might be smaller in some places where she was bigger and bigger in places where she was smaller.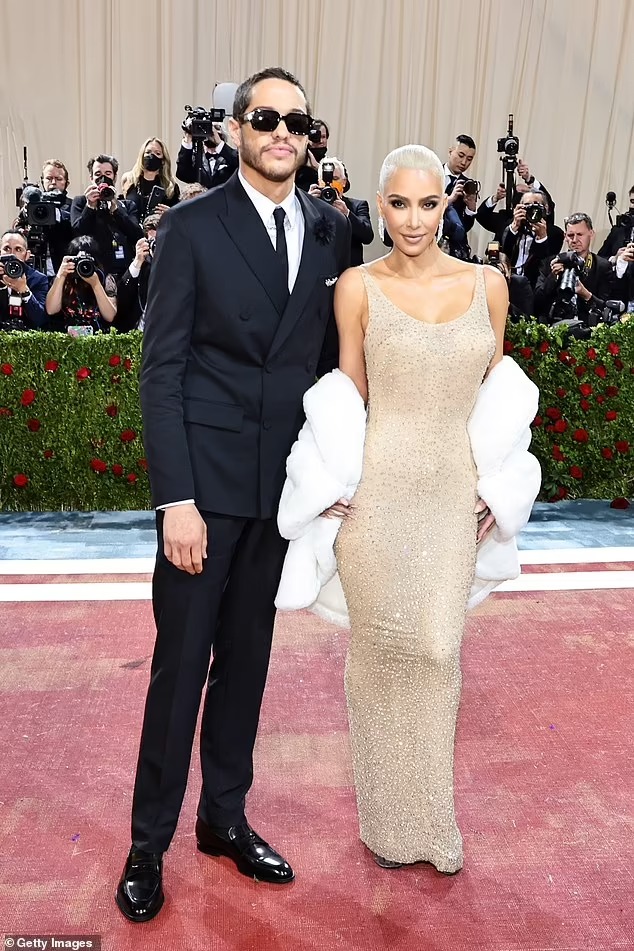 "So when it didn't fit me I wanted to cry because it can't be altered at all."
'I would wear a sauna suit twice a day, run on the treadmill, completely cut out all sugar and all carbs, and just eat the cleanest veggies and protein,' the Skims entrepreneur told Vogue of her brutally rigorous diet.
'I didn't starve myself, but I was so strict.'
Kim also spoke about her red carpet look with her pal Lala, saying: "This is Marilyn Monroe's dress it's 60 years old. She wore this when she sang happy birthday to John F. Kennedy in 1962."
She went on: "I tried it on and it didn't fit me. I had to lose 16 pounds to be able to fit this. It was such a challenge it was like a role.
"I don't think they believed that I was going to do it but I did it."
Marilyn Monroe's gilded beaded gown was created by Jean Louis and is now on display at Ripley's Believe It or Not! Museum in Orlando, FL, after it was purchased for $4.81 million from Julien's Auction.

GET TOP STORIES VIA INBOX