Updates
Are Amber Heard's parents supporting Johnny Depp in the ongoing trial?


GET TOP STORIES VIA INBOX
The continuing lawsuit between Hollywood stars Johnny Depp and ex-wife Amber Heard is making headlines on the news and social media by the minute for all of the surprising disclosures that have been made in it.
Depp is suing the Aquaman actor for claiming in a 2018 op-ed that he abused her. The hearing began on April 11, 2022, after Heard filed a countersuit against Depp for $100 million.
Johnny Depp seems to be getting a lot of love, with fans greeting him outside the courthouse with presents.
And now, it appears that Amber Heard's parents, David and Paige Heard, were also on the Pirates of the Caribbean star's side from the start.
Recently, screengrabs from an old text exchange surfaced on the internet, in which the 'Aquaman' actor's parents revealed that their daughter's 'domestic abuse' charges against the 'Pirates of the Caribbean' star were made up by Heard's attorneys and were false.
The text messages were exchanged between Depp and Heard's parents on May 27, 2016, just hours after Heard sought a restraining order against him.
"It's the lawyers on both sides doing this, not Amber," Paige Heard said to her son-in-law (Depp) in a message. "I heard the whole story very teary—if I could just talk to Johnny. She didn't want this. Friggin lawyers on BOTH sides!! This was not her idea, not her wishes. She was told she would be evicted and out in 30 days if she did not do this."

Paige, who died in 2020, appears to be referring to the restraining order, but she makes no comment on the claims of abuse.
"Her dumb lawyer possibly as the only way she would have a place to live in 30 days," she continued. "She DID NOT want to do this I swear to you. The lawyers are frigging things up."
Heard even advised the former son-in-law not to use their chat during the trial as evidence. "Why would she [Amber] go to the courthouse with a photo of her that looks like she's been abused?" Johnny responded to the messages. Heard responded by saying it wasn't her idea.
"I'll swear to you this was not her idea nor did she do it willingly or happily. She was told it was her ONLY option to not be kicked out," she responded.
Paige Heard's response arrived quickly, at 8:47 p.m.
"Her lawyer told her she had to and she had to today. That's why she wanted to talk to you. We didn't talk so please never bring this up. But I'll swear to you this was not her idea nor did she do it willingly or happily. She was told it was her ONLY option to not being kicked out. I'm not making excuses but that is what she believed. She did not want to do it. She felt she was betraying her only love but the lawyers said so," Heard's mother answer back.
"Please don't pass this on if you ever talk to Amber again. I love you, son," she said.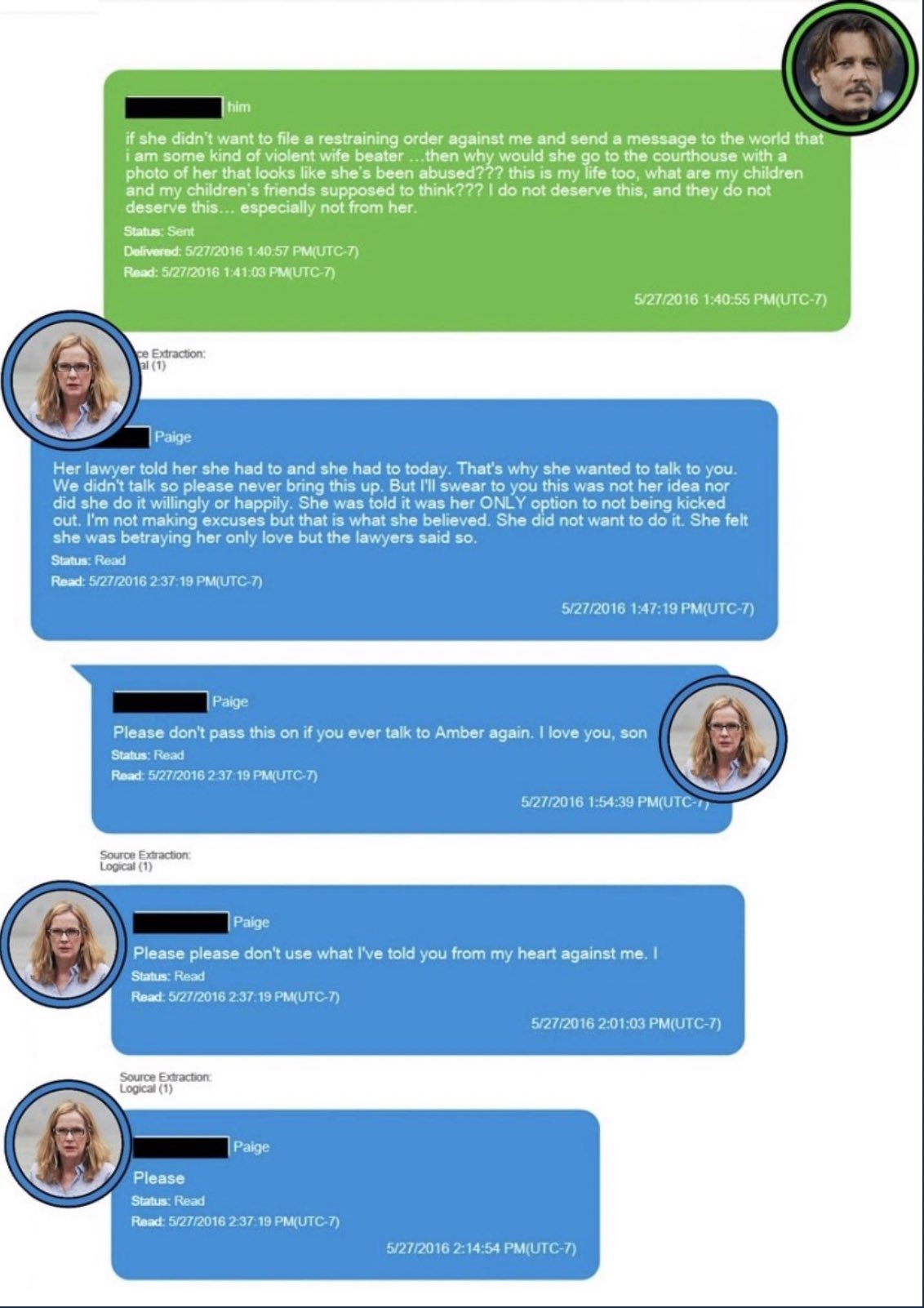 In 2009, Depp and Heard met on the set of The Rum Diary and began dating a year later. The pair got married in 2015. Heard filed for divorce later that year, claiming Depp had physically mistreated her while under the influence of narcotics or alcohol. Depp disputed all of the allegations. Johnny Depp sued Heard in 2018 for an opinion piece she wrote for the Washington Post in which she claimed she was a victim of domestic abuse. Later, the Aquaman actress filed a counter-suit against her ex-husband, whose case is presently being heard in Virginia. Several stunning disclosures have surfaced during the trial.

GET TOP STORIES VIA INBOX