Updates
Madonna looked unrecognizable at Grammys


GET TOP STORIES VIA INBOX
The 2023 Grammy Awards on Sunday night had a surprising moment when Madonna took to the stage ahead of Sam Smith's performance.
The "Like a Virgin" singer had a message for all the rebels and troublemakers in the audience.
"I'm here to give thanks to all the rebels out there, forging a new path and taking the heat for all of it. You guys need to know all you troublemakers out there you need to know that your fearlessness does not go unnoticed," Madonna said.
"You are seen, you are heard, and most of all, you are appreciated."
Her words, however, were not what garnered attention from the viewers. Instead, it was her appearance that sparked a sea of reactions on social media.
Madonna had noticeably bigger lips, braids, a tight black suit, and fishnet gloves that left some viewers questioning if it was really her.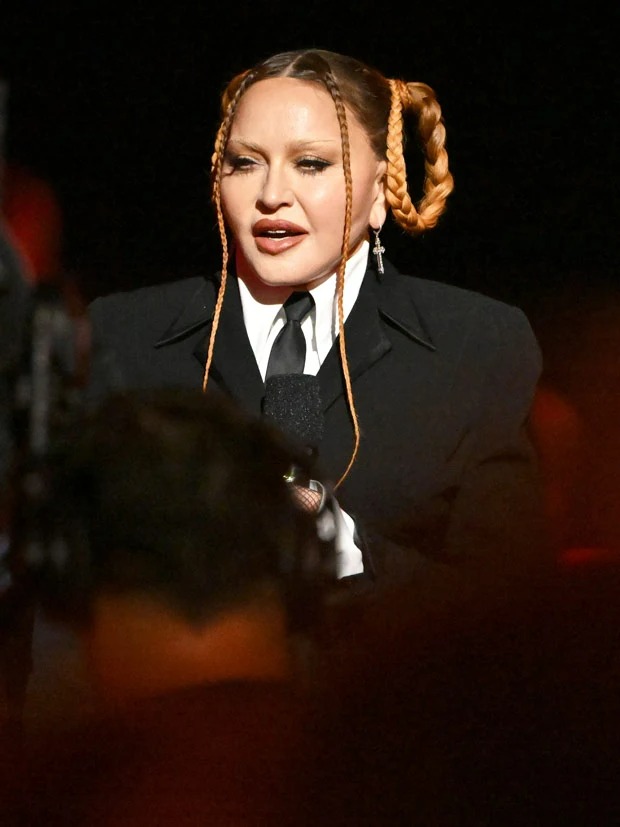 One person tweeted, "Madonna who? That can't be her? Can it ?" while another person wrote, "I love Madonna. I really do. But lord what did she do to her face."
The Queen of Pop's tribute came after Kim Petras made history as the first transgender woman to win a Grammy.
Petras and Smith won the award for Best Pop Duo for the song "Unholy".
The song had caused some controversy in the past, according to the duo.
Madonna has been a longtime champion for the LGBTQ+ community and has won seven Grammy awards and been nominated 28 times in past years.
However, not everyone was impressed with Madonna's speech. Some viewers called it "narcissistic" with one person writing, "This is the worst narcissistic Madonna #GRAMMYs speech since she gave Aretha Franklin that non-tribute tribute."
Another person agreed, writing, "Madonna wtf is this hashtag girlboss speech."
One person tweeted, "Madonna is what happens when you don't prepare a speech and repeat it 3-5 times before you show up to give it. #GRAMMYs."
Regardless of the mixed reactions to her appearance and speech, Madonna's message to the rebels and troublemakers in the audience was a clear reminder of her support for the LGBTQ+ community.
Popular Posts:
MUST READ:

GET TOP STORIES VIA INBOX