Updates
Arnold Schwarzenegger Looks Tiny next to Shaquille O'Neal


GET TOP STORIES VIA INBOX
At the 2021 Arnold Sports Festival, one of the most prominent bodybuilding competitions in the world, which is starting this weekend in Columbus, Ohio, Arnold Schwarzenegger released a new photo of himself posing with a much taller Shaquille O'Neal, and his sons poked fun at the height disparity.
The event, which was first held in 1989 and is named after Arnold Schwarzenegger, was originally scheduled to take place in March but was postponed.
Schwarzenegger provided a gift for all of his followers when he published this amusing size disparity on social media for all to see.
In a Sunday afternoon Instagram post, Arnold Schwarzenegger remarked, "Great to see my friend @shaq in Columbus."
Patrick Schwarzenegger, 28, and Joseph Baena, 23, also took part in the festivities. The actor posed with the legendary basketball player as they exchanged greetings in Columbus.
In the caption, Arnold said, "Although I don't know why he always insists on standing on a 2 foot box when he's with me," Arnold wrote in the caption. "I'm here for the @arnoldsports, he's here to do a fantastic DJ show. We used to share an office years ago and I love seeing his continued success."
Even though he stands at 6ft2in, the former Los Angeles Lakers great towers over Schwarzenegger at 7ft1in.
Patrick and Joe were eager to respond with their own witty comments after Arnold tweeted the photo. Patrick referred to his father's cover as "kinda like Twins Poster!!"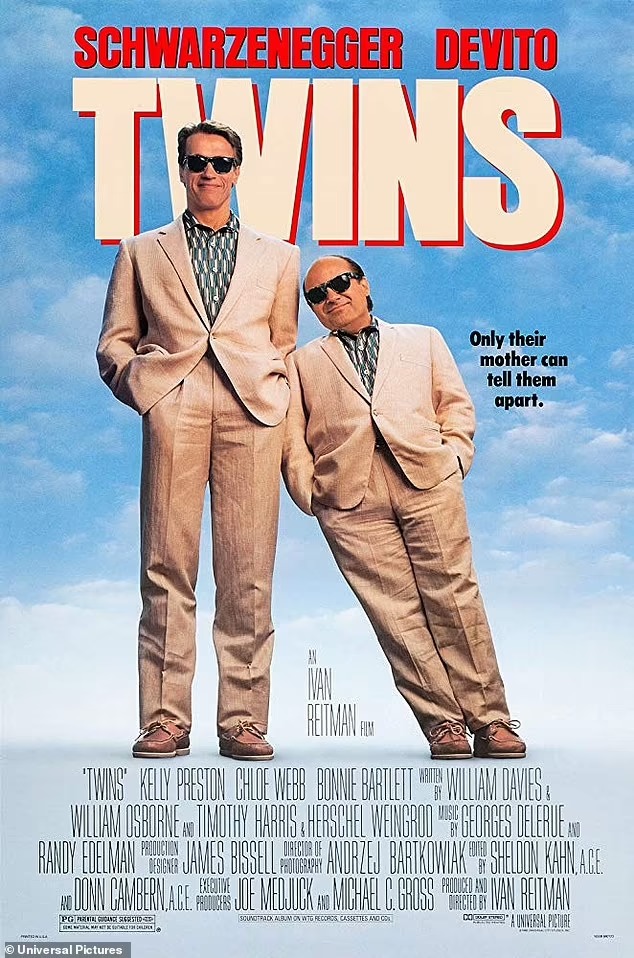 The son of Arnold Schwarzenegger then added a cry-laugh emoji. Of course, this remark is a comical – and extremely appropriate – reference to Arnold Schwarzenegger's 1988 hit flick Twins. "When is @shaq doing your guest posing routine?" Joe also asked.
In this enormously successful movie, the bodybuilder plays a long-lost twin to Danny Devito, who is tiny and chubby. The picture grossed more than $216 million worldwide.
Fans also shared their thoughts on the incredible eye-catching photo in the comments section. One fan noted, "Arnold looks tiny for the first time," while another referred to them as "two champions." "Love you, Arnold! But I never knew you were short! 😉❤️" wrote a third.  "All I see are two legends," a fourth pointed out.
Throughout the day, Schwarzenegger published a number of images and video recordings taken during the competition on his Instagram page.
Joseph Baena, another of Arnold Schwarzenegger's kids, weighed in on the weekend snapshot with his two cents.
"When is @shaq doing his guest posing routine?" the actor's son inquires, apparently hoping to entice the athlete to join the Schwarzenegger family's bodybuilding obsession.
Arnold previously made headlines for his photo with Shaq, which he took last week to celebrate Patrick's birthday. The pleased father stood with the birthday boy, Maria Shriver, and his other children, Katherine Schwarzenegger, Christina Schwarzenegger, and Christopher Schwarzenegger, in front of a cake. Joseph was the only one not included in the photo, but he was seen working out with Patrick earlier this year, indicating that their friendship is strengthening.
After Joe Weider's Olympia, the event is considered the second most prestigious in professional men's bodybuilding, physique, figure, and bikini, and it has also been the second most prestigious in professional female bodybuilding.
The participants are vying for a share of $438,000 in prize money as well as the title of Arnold Champion.
Popular Posts:
MUST READ:

GET TOP STORIES VIA INBOX