Updates
Kim Kardashian buys Princess Diana's pendant at auction


GET TOP STORIES VIA INBOX
Reality TV star Kim Kardashian has recently acquired a piece of jewelry that was once worn by the late Princess Diana.
The Attallah Cross, a 1920s pendant designed by luxury jewelry designer Garrard, was purchased for £163,800 at Sotheby's in London, more than double its pre-auction estimate.
The piece was famously worn by Princess Diana at a London charity gala in October 1987 in support of Birthright, a charity working towards the protection of human rights during pregnancy and childbirth.
The cross, which features square-cut amethysts and is accented by circular-cut diamonds, has a total diamond weight of approximately 5.25 carats.
It was first bought by businessman Naim Attallah, who was friends with Diana, in the 1980s from Garrard, the first official Crown jeweler, and was loaned to the princess on several occasions.
Kristian Spofforth, head of jewelry at Sotheby's London, stated ahead of the sale, "Jewelry owned or worn by the late Princess Diana very rarely comes on to the market, especially a piece such as the Attallah cross, which is so colorful, bold, and distinctive."
He went on to say that the pendant is symbolic of the princess's growing self-assurance in her sartorial and jewelry choices at that particular moment in her life.
This is not the first time Kardashian has shown an interest in historical fashion items. In 2011, she paid $65,000 for three gold and jade Lorraine Schwartz bangles that were owned by the actress Elizabeth Taylor.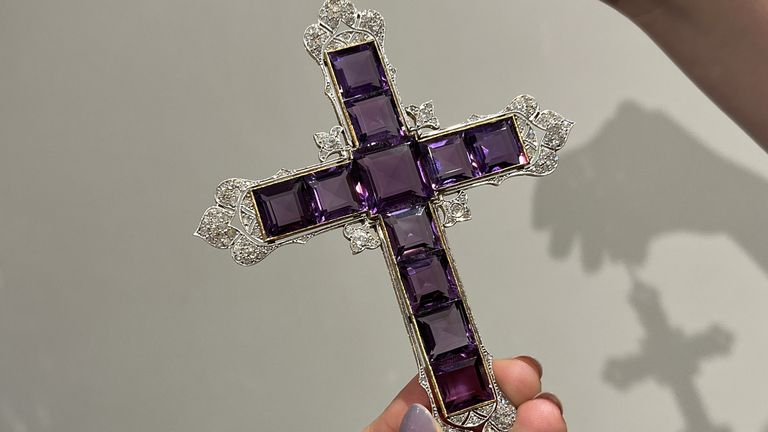 In 2017, she purchased a Cartier watch that was once owned by Jackie Onassis, the wife of former US President John F Kennedy, for $379,500.
In addition, last year at the Met Gala, Kardashian wore a famous Marilyn Monroe dress that was loaned to her from the Ripley's Believe It or Not! Museum.
The dress was originally worn by Monroe during her famous 1962 performance of "Happy Birthday" to US President John F Kennedy. The reality star revealed that she lost 16 pounds to fit into the gown.
The Attallah Cross is a significant acquisition for Kardashian as it represents a connection to one of the most iconic and beloved members of the royal family.
Princess Diana was known for her charitable efforts and her fashion sense, and the pendant holds a special place in history as it was worn by her on several occasions.
Kardashian's purchase of the Attallah Cross is a testament to her love for fashion and her appreciation for historical pieces.
The reality star has a keen eye for vintage and one-of-a-kind items and is known for her extensive collection of jewelry and designer clothing.
The Attallah Cross is not only a beautiful piece of jewelry but also a piece of history.
Princess Diana's legacy continues to live on through her charitable work and her fashion choices, and the pendant is a physical reminder of her impact on the world.
Kardashian's acquisition of the Attallah Cross is a significant moment in the world of fashion and celebrity culture.
The reality star's purchase of a piece of jewelry worn by a member of the royal family is a rare occurrence and highlights her interest in historical fashion items.
Popular Posts:
MUST READ:

GET TOP STORIES VIA INBOX