Updates
Jeremy Renner will never walk again after horrific leg injury


GET TOP STORIES VIA INBOX
Actor Jeremy Renner, best known for his role in the "Avengers" series, is recovering from a serious leg injury sustained in a snowplough accident.
His friends and family are worried that the injury may leave him permanently crippled, according to a source close to the situation.
Renner has already undergone two delicate surgeries, but there are concerns about whether he will be able to walk again.
"It's much worse than anyone knows," said a friend of the actor.
"Jeremy is very aware of the fact that he almost died out there."
The friend went on to describe the extent of Renner's injuries, stating that "The right side of Jeremy's chest was crushed, and his upper torso had collapsed. He also had a bad head wound that was bleeding and a leg injury."
The friend also revealed that Renner had almost bled out while waiting for help to arrive. "He was in a lot of pain and was having difficulty breathing," he added.
The accident occurred on New Year's Day when Renner was assisting a family member with moving a stranded vehicle near his $2 million Lake Tahoe ranch.
He was run over by a 14,300-pound snowplough and was airlifted to a nearby hospital for treatment.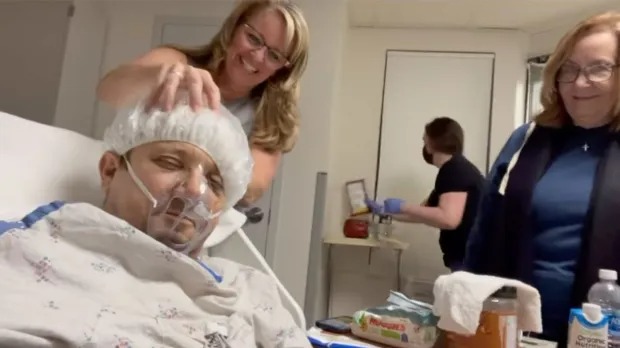 He was admitted to the intensive care unit (ICU) and underwent surgery on January 2nd, 2023.
Renner's representative released a statement following the accident, providing an update on the actor's condition.
"We can confirm that Jeremy has suffered blunt chest trauma and orthopaedic injuries and has undergone surgery today, January 2nd, 2023. He has returned from surgery and remains in the intensive care unit in critical but stable condition," the statement read.
The statement went on to express gratitude to the medical professionals and first responders who provided care for Renner, as well as the outpouring of support from fans.
"Jeremy's family would like to express their gratitude to the incredible doctors and nurses looking after him, Truckee Meadows Fire and Rescue, Washoe County Sheriff, Reno City Mayor Hillary Schieve and the Carano and Murdock families."
"They are also tremendously overwhelmed and appreciative of the outpouring of love and support from his fans."
Popular Posts:
MUST READ:

GET TOP STORIES VIA INBOX