Updates
People Passed Out While Watching 'Gerald's Game'


GET TOP STORIES VIA INBOX
One of the most common criticisms of Stephen King's box-office hit adaption of IT was that it wasn't scary enough. Devoid of gore, the picture was more akin to an adventure than a horror thriller.
It's unlikely that you'll hear similar complaints about his later picture, the Netflix version of Gerald's Game, which is now available to watch on the service.
The film stars Bruce Greenwood and Carla Gugino as a couple who are on their way to a romantic getaway when Gerald passes away, leaving his wife bound to a bed in the middle of nowhere.
The scene swiftly becomes gruesome when Gugino's character Jessie breaks the glass from a shelf above her and cuts her wrists to peel back the flesh from her hands up to her fingers in order to shed enough blood to free her hands.
As you would expect, it's not for the faint of heart, and there's a passage in Stephen King's original novel that turns readers' stomachs. In fact, one individual passed out while viewing it, according to the director. "Someone fainted at the Fantastic Fest screening which is the coolest thing I've ever heard." he added.
Director Mike Flanagan (Ouija: Origin of Evil, Before I Wake) explained to Slash Film how they were able to add to the book's horror by incorporating a new aspect.
"The principle difference is the sound," he stated. "I think that's the only difference… Because we weren't really using music in the film almost ever, all that sound design is just front and center. That's kind of what makes it so intense. Even when I would look away while we were shooting it and when we were editing, you can't get away from the sound. It's some of the most uncomfortable noise and we just crank it right up. We just wanted to hear every little squish and pop and stretch. It's gnarly stuff."
When it came to filming the sequence that is said to make people pass out, the crew didn't help her out by removing the handcuffs. The so-called "degloving" incident occurs two-thirds of the way through the movie, when Jessie uses a shard of glass to slit one of her wrists and twist it free from the cuff, ripping off a lot of flesh in the process — and the camera captures every graphic detail. Gugino describes that key moment as "70 percent acting and 30 percent discomfort. We made it as tight as possible, so that I could get out of it, but it was still a real struggle. I'm not a masochist; I just felt like it was necessary for me, as an actor, to push those limits as much as possible."
Gugino was frequently present in the bedroom that serves as Jessie's temporary prison, even while she wasn't on camera… as well as a hall of horrors She flashes back to long-suppressed memories of childhood trauma when her father (Henry Thomas) sexually molested her while thirst, hunger, and agony throw her in and out of consciousness.
Meanwhile, in the present, she notices — or believes she notices — a ghostly guy standing in the corner of her room. Then there's the wild dog, who strolls into the room intending to eat Gerald's body. ""I was there for all of Moonlight Man; there might have been some dog stuff I wasn't there for, but if they shot something before I got there, I'd have them play it back for me so I'd know what I was reacting to. From my perspective on the bed, I could only see what the audience, and Jessie, could see. So I'd try to see Gerald's body on the ground, and could only see this stream of blood. That was a really smart idea on the filmmakers' part."
Carla Gugino Says She Looked Like Robocop After Breaking Her Wrist in Nasty Accident
Carla Gugino said that she fractured her wrist while filming Leopard Skin in the Dominican Republic earlier this year.
The actress says the accident occurred as she was "coming down a hill" and resulted in a "pretty nasty injury" while promoting her new Netflix film "Gunpowder Milkshake."
"I broke all the bones all the way across and then had a bunch of complications because I had to have a bonesetter on," she explained. "It made me look like RoboCop, but it was a massive metal thing that was literally drilled into my bones that I had to have on for seven weeks."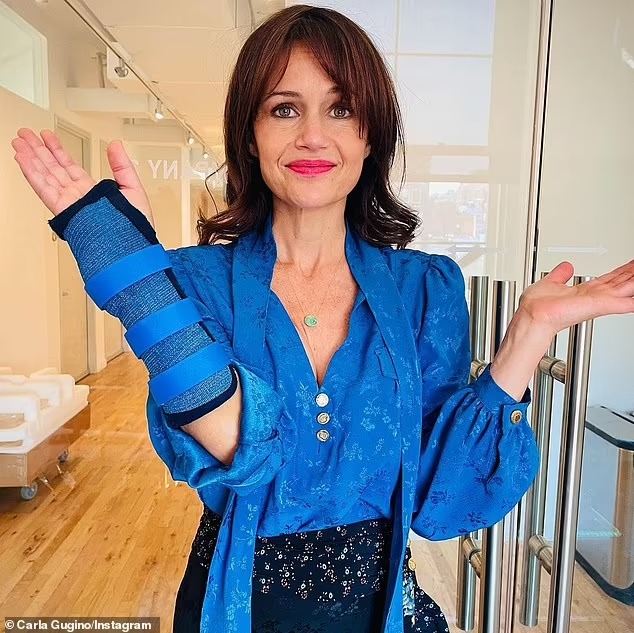 The damage 'didn't heal because the bone was pulled too far apart, so I had to have a second surgery seven weeks ago,' Gugino explained, "I now am bionic.'
Gugino plays Madeleine, a part of a crew of female assassins that includes Karen Gillan, Angela Bassett, Lena Headey, and Michelle Yeoh, who are attempting to save a small child from a lethal crime organization in "Gunpowder Milkshake." "None of the women had ever worked with each other," Gugino adds, adding, "it definitely was absolutely a big part of the lore to do it. It was like, 'Wow, this a group of amazing women who are going to come together to kind of play.' One of the things I found that, besides this being a hugely entertaining film, is also there is this sense of found family."
She was in the process of filming a new project when she took the horrible fall.
"During this last week of filming Leopard Skin this happened!" she said on Instagram. "But as we know, the show must go on! (Broken wrist or not) which is one of my favorite things about making movies and theater. There's no better doctor than 'Dr. Theatre' as coined by the great Rosemary Harris."
Gugino also told the newspaper that she believes filmmaker Robert Rodriguez's Spy Kids film anthology, in which she appeared, would likely finish with four installments.
'You know, I think Robert has moved on,' she said. 'I actually just saw him recently and we always want to collaborate. I think he did four of them and that was sort of right.'

GET TOP STORIES VIA INBOX