Updates
Lizzo pulls pants down to expose her whole bum on stage


GET TOP STORIES VIA INBOX
Curvy goddess Lizzo had her fans quivering with delight as she tugged her gold pants down in the middle of a gig to play the flute and twerk in a very steamy moment.
The Truth Hurts songstress left nothing to the imagination when it came to the steamy twerking session in the middle of her concert.
Jiggling her famous curves as she played the hell out of her instrument, Lizzo's trouser legs trailed along the stage floor over her chunky black platforms.
On top, Lizzo wore a matching gold strappy bodysuit, letting her dark brown hair flow in a sleek style all the way down her back.
After being handed a flute by one of her dancers, Lizzo tugged down her sparkly golden trousers – encrusted with sequins and lace fringe – to show her peachy rear to her fans.
Captioning the risqué video on Instagram, Lizzo wrote: "Showed my whole a** in Paris last night! I love you Paris!" Fans went absolutely wild in the comments section, with one begging: "I must be there immediately." Someone else gushed: "God I love you!" A fifth social media user echoed: "We want the back angle view!"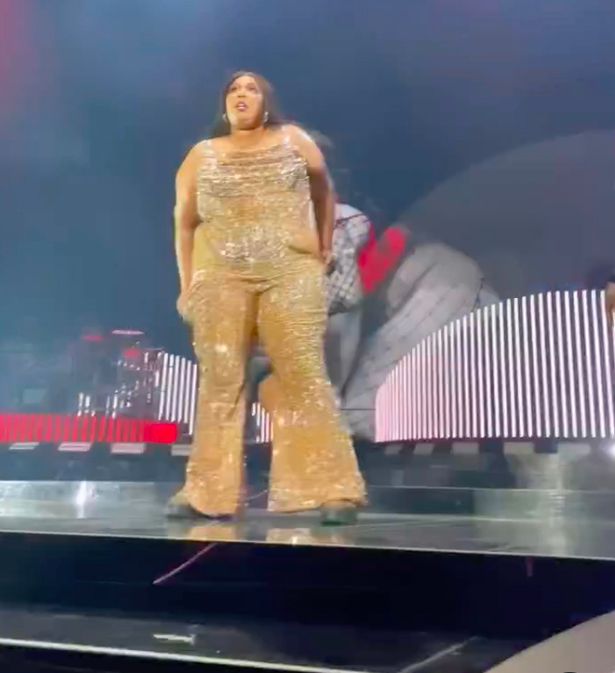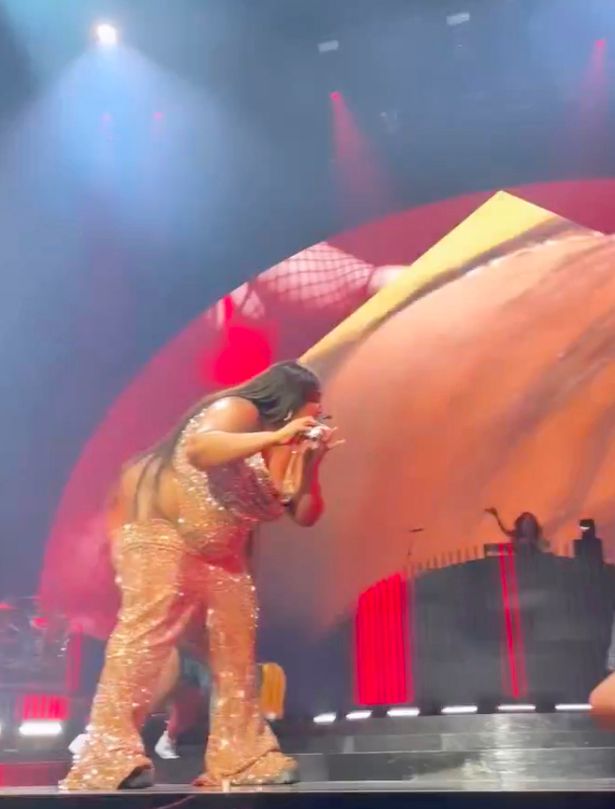 Lizzo has been living her best life in Paris, heading to the Louvre to see the Mona Lisa, posing under the Eiffel Tower and delighting in connecting with her fans.
But in Milan, Italy, she had one audience member emotional as she crawled over the stage to give her a cuddle, explaining on Instagram: "Last night while singing Special I felt like someone in the crowd really needed to hear that message… "Then later in the show I saw a sign that said, 'Can I have a hug?' and I knew exactly who that message was for. Thank you Milan!"
The American singer and rapper is known for promoting self-love and body positivity.
She has been embarking on a tour in Europe, which includes stops in Paris, London, and Berlin.
Lizzo has been sharing pictures and videos of her travels on social media, including her performances on stage.
Lizzo has recently made headlines for her empowering message to fans about embracing their bodies.
In a video posted on TikTok, she said: "I just want to say that I'm so grateful for all of you and I'm so grateful for your support and your love because I really do love y'all." She added: "Let's keep getting this motherf****** money, let's keep loving ourselves, let's keep lifting each other up."
The artist has also spoken out about the criticism she faces for being confident in her body.
In an interview with Rolling Stone, she said: "It's not like I'm just sitting here like, 'I'm a big b****, and I'm proud.' No! I'm like, 'I am a big b****, and guess what? That doesn't mean I'm not going to live my best life.'"
Lizzo has been praised for her music and her message of self-love.
She has won several awards, including three BET awards, two Soul Train Music Awards, and a Billboard Music Award.
Her hit songs include Juice, Truth Hurts, and Good as Hell.
The artist has also collaborated with other musicians, including Ariana Grande, Missy Elliott, and Charli XCX.
She has been vocal about her admiration for these artists and their contributions to the music industry.
Lizzo has become a role model for many young people who struggle with body image issues and self-esteem.
She has inspired her fans to embrace their bodies and celebrate their uniqueness.
Her message of self-love and positivity has resonated with many people around the world.
Lizzo's recent performance in Paris has once again brought attention to her music and her message.
The artist has shown that she is not afraid to be herself and to express her creativity on stage.
Her fans have praised her for her confidence and her ability to inspire others.
Popular Posts:
MUST READ:

GET TOP STORIES VIA INBOX