Updates
Rosario Dawson flashes her underwear on red carpet


GET TOP STORIES VIA INBOX
Actress Rosario Dawson suffered a wardrobe malfunction on the Cannes red carpet on Monday night, as her white Elie Saab gown parted at the front split, revealing her white underwear.
The actress quickly pulled the fabric across her thighs to cover up the embarrassing incident.
However, Rosario had already shown off plenty of leg in the daring dress that featured a low-cut to further reveal her decolletage.
She wore her hair in Heidi-style plaits and accessorised with white stilettos, a cream and gold clutch and a stunning strand of diamonds.
In a similar incident, Eva Longoria revealed more than she intended on the Cannes red carpet over the weekend, as she ascended a flight of stairs while avoiding the fast-falling drizzle, tugging up her hem to avoid puddles.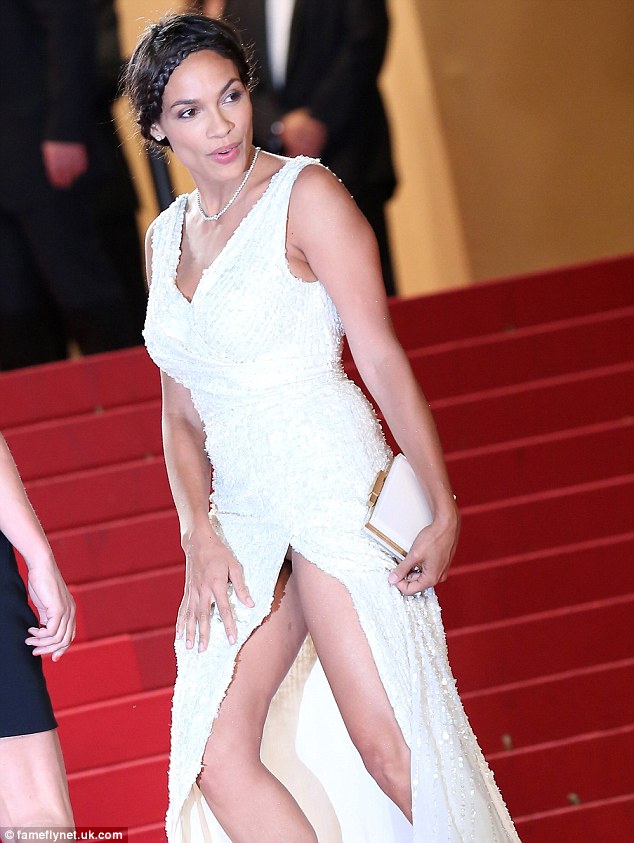 The former Desperate Housewives star was left exposing herself with no underwear on, and the humiliating incident was caught on camera.
Eva trudged on with the aid of several red carpet staffers, being careful not to step on her trailing gown with her beige high heels.
Meanwhile, Ahna O'Reilly, star of As I Lay Dying, wore a pair of matching scarlet trousers underneath her Monique Lhuillier dress as she attended the premiere of her film on Monday night.
Ahna stood out in her stunning red dress, which featured an intricate lace design and uneven hemline.
Underneath the attire was some matching red tulle which acted as a lining to the gown.
Ahna accessorised the ensemble with some champagne satin sky high Ferragamo heels and large H. Stern diamond drop earrings.
The American star wore her auburn tresses in a plaited Heidi-style and had lashings of red lipstick on her pout.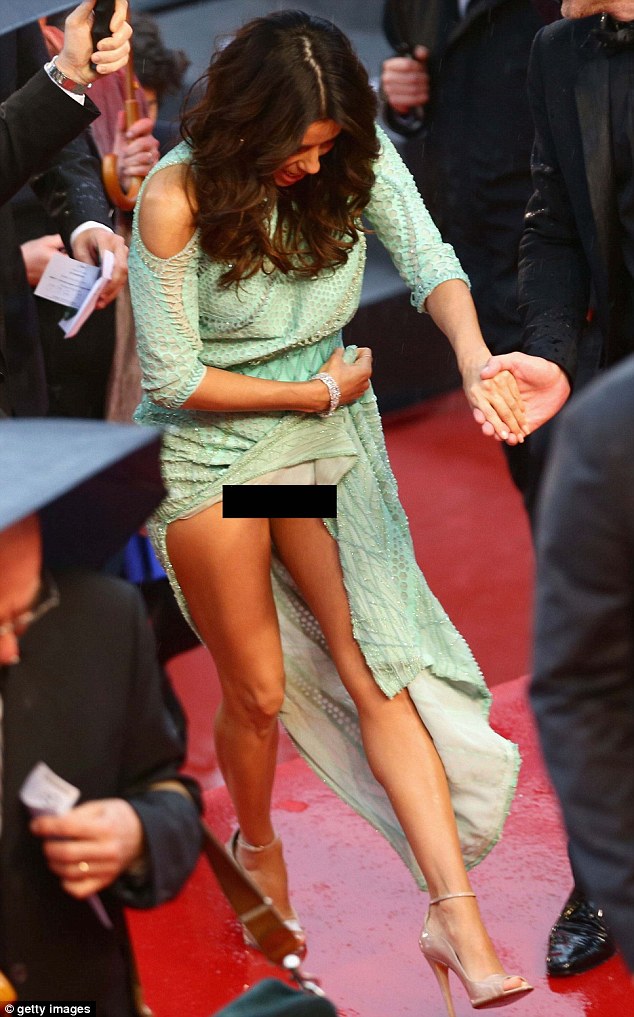 James Franco, who is in Cannes to promote his new film As I Lay Dying, which he also directed, attended the premiere with Ahna.
James looked dapper in a black tuxedo as he draped his arm around Ahna and fellow American actress Beth Grant, who also stars in the film.
Earlier in the day, James and Ahna had been busy promoting their film at a photo call.
James wore a navy suit, white shirt and matching navy tie, while Ahna is wearing a Marni dress and Bionda Castana shoes.
James also wrote a piece defending Baz Luhrman's film adaptation of The Great Gatsby to critics.
The Spring Breakers actor is well qualified to critique it as he was a PhD student in English at Yale and has taught English classes at NYU in New York.
He wrote in Vice magazine: "It was similar to what Walter Salles faced with On the Road: how to stay loyal to the era depicted, while still retaining the rawness of the original text.
We allow the classics to get away with so much because we love the characters.
But when older stories are revived for film, the issue of the past and present must be rectified.
But that lack was not a function of anything missing in the actors or the general direction as much as it is a result of the passage of time, the encasing of a book in the precious container of 'classic' status."
Rosario Dawson has been making waves in Hollywood since her debut in 1995 in the movie Kids, and since then she has gone on to star in a number of popular films, including Men in Black II, Sin City and Rent.
Popular Posts:
MUST READ:

GET TOP STORIES VIA INBOX