Updates
Keanu Reeves kisses girlfriend passionately


GET TOP STORIES VIA INBOX
Keanu Reeves and his girlfriend, Alexandra Grant, attended the Museum of Contemporary Art gala in Los Angeles on Saturday, where they shared a passionate kiss on the red carpet. The 58-year-old actor, who first publicly acknowledged his relationship with Grant in 2019, recently spoke fondly of his partner.
The 50-year-old artist wore a bright red dress with a floral pattern, which complemented Reeves' black suit with a white button-up shirt.
Alexandra's dress was designed by Carolina Herrera and featured a halter neck, ruffled detail, and a cinched waistline.
While the exact dress is not available to purchase, similar styles can be found on Moda Operandi, SilkFred, and Zimmermann.
Reeves wore his long, dark hair loose and disheveled, complemented by a fully-grown beard with spots of white-gray hair.
Alexandra styled her graying bob haircut in a side part with sideswept bangs and flaunted her statuesque frame in her statement-making frock.
Reeves and Alexandra were not the only couple attending the gala. Alex Winter, Reeves' co-star from Bill & Ted's Excellent Adventure, arrived with his partner Ramsey Ann Naito.
Winter wore a dark suit with a floral patterned button-up shirt and lightly-tinted eyeglasses, while Naito donned a gold and black patterned dress with square-shaped, black-framed eyeglasses and a large gold handbag with a round handle.
Lisa Edelstein, an actress, attended the event with her husband, Robert Russell, an artist.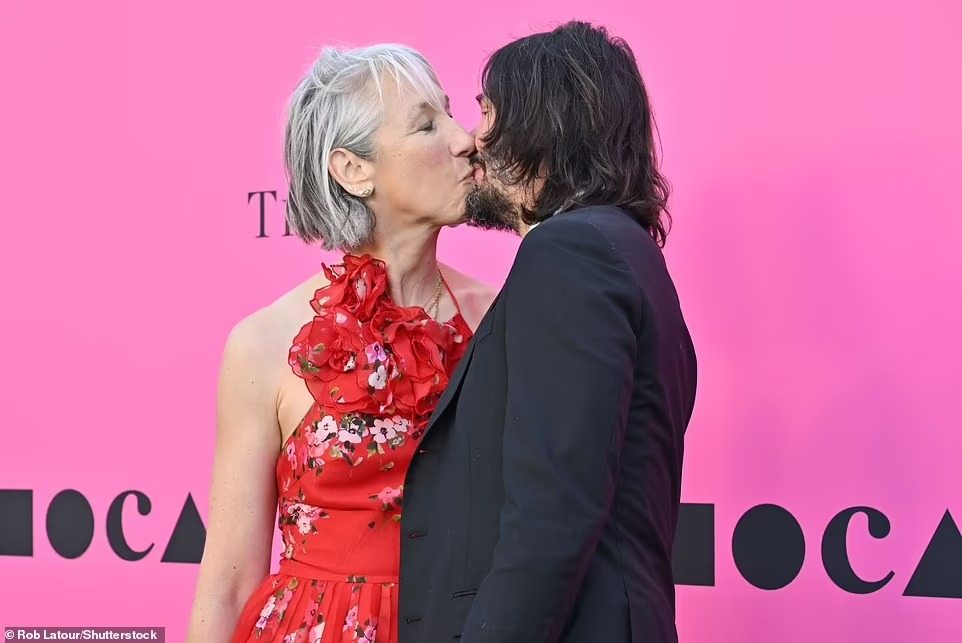 She wore a plunging two-toned dress with a pink top and cream-colored skirt embellished with a space shuttle graphic and golden sparkles.
Edelstein's brunette bob was styled in tightly wound waves with a side part, while Russell wore a three-piece black suit with a button-up black shirt and long gray hair parted down the middle.
Jodie Foster, accompanied by her wife of nine years, Alexandra Hedison, also attended the event.
Foster wore a button-up white shirt with a dipped front that bared her chest and a graying bob haircut styled in an off-center part with a sleek straight style.
Hedison looked stylish in a draped green blouse worn under a baggy black blazer and accessorized with a statement-making necklace with white and red tassels.
American-Canadian actress Jennifer Tilly made a bold fashion statement in a purple dress with black sleeves, a bright red belt, and black fishnet tights.
Her raven locks were styled in a wispy bob with a side part, and she completed the look with red lipstick and a strapless black bra visible under her sheer bodice.
The event saw many guests dressed in stylish outfits, with the focus on fashion and contemporary art.
The gala aimed to raise funds for the museum and its educational programs, which aim to promote contemporary art and culture.
The Museum of Contemporary Art is a leading institution in Los Angeles, dedicated to exhibiting and collecting contemporary art, and is known for its dynamic exhibitions and innovative programming.
The Museum of Contemporary Art gala has been held annually since 1979 and is one of the most anticipated cultural events in Los Angeles.
The gala is a major fundraiser for the museum and attracts high-profile guests, including artists, collectors, philanthropists, and celebrities.
The gala's theme for 2023 was "Art in the Future," which explores the role of art in shaping the future and creating new visions of the world.
The event featured a silent auction with works of art by emerging and established artists, as well as an exhibition of contemporary art, music, and dance performances.
The Museum of Contemporary Art's Director and Chief Curator, Klaus Biesenbach, expressed his enthusiasm for the event, saying,
"We are thrilled to have such a diverse group of supporters come together to celebrate the power of contemporary art and its potential to shape the future.
This year's gala is a testament to our commitment to providing access to contemporary art for all and to our mission of engaging the public in meaningful experiences with art and culture."
The event was attended by many influential figures from the art world, including museum directors, curators, artists, and collectors.
The gala was also an opportunity for guests to network and socialize with like-minded individuals who share a passion for contemporary art.
The Museum of Contemporary Art is a vital cultural institution in Los Angeles and has played an important role in promoting contemporary art and culture.
The museum's collection includes more than 7,000 works of art, including paintings, sculptures, photographs, videos, and installations, by artists from around the world.
The museum's educational programs aim to engage audiences of all ages and backgrounds in contemporary art and culture.
The programs include guided tours, artist talks, workshops, and other interactive activities designed to promote creativity, critical thinking, and cultural awareness.
Popular Posts:
MUST READ:

GET TOP STORIES VIA INBOX