Updates
Sam Smith's 'hyper-sexualised' video sparks controversy


GET TOP STORIES VIA INBOX
Sam Smith's provocative music video stirs debate: Critics denounce 'hyper-sexualized' content of I'm Not Here to Make Friends and demand age limits as 'children as young as five can view it on YouTube'
Sam Smith has ignited controversy over the 'hyper-sexualized' choreography in their latest music video, with critics accusing it of 'normalizing pornography' in pop culture, while supporters argue it's 'empowering.'
The suggestive video for Smith's new song I'm Not Here To Make Friends has spurred a discussion about whether age restrictions should be implemented on platforms like YouTube due to its allegedly explicit content.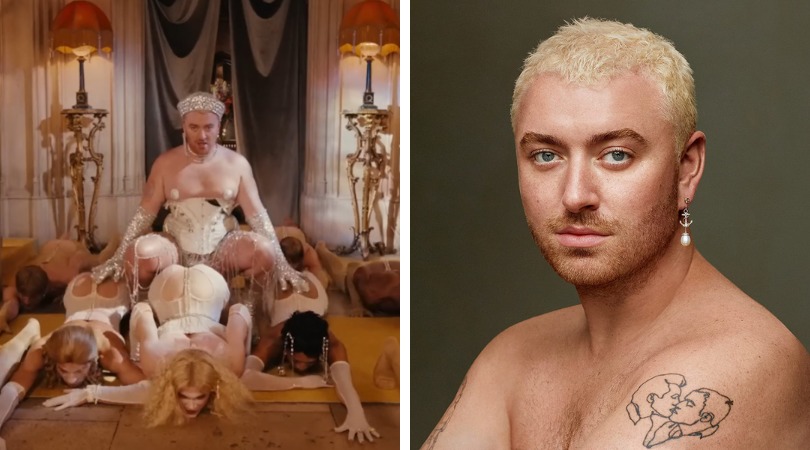 The video features Smith arriving at a castle via helicopter and dancing with numerous performers clad in corsets, suspenders, and nipple tassels. At one point, a jet of water is sprayed into the singer's mouth.
In other scenes, dancers wearing only black leather underwear are filmed slowly gyrating on a bed, and later, they surround Smith, who is non-binary and uses they/them pronouns, while dancing provocatively.
The 30-year-old singer released the video for the new track, which is part of their latest album Gloria, last week.
Appearing on ITV's Good Morning Britain today, journalist Alex Phillips labeled the music video 'unhealthy' for society, stating that certain parts of the video were tantamount to 'extreme hardcore pornography.'
She told hosts Susanna Reid and Richard Madeley: 'To show that video on television, you had to edit a significant portion of it.
'The issue is that teenagers and young people are the target audience for these videos, and there's no restriction. They're easily accessible on YouTube and TikTok.
'We live in an era where porn is becoming increasingly normalized. It's present in music videos and fast fashion aimed at teens, and we're also living in a time where sexual assault is rampant in schools.
Phillips also said that it's impossible to shield children from the 'extreme sex scenes' depicted in the video.
Meanwhile, radio presenter Shivani Dave defended the singer, arguing that past stars like Madonna wouldn't have faced similar criticism for releasing such a video.
Dave stated that sexualized music videos have been 'going on for decades.'
The radio host added: 'In ten years, we'll likely look back and think this debate was absurd to have on TV.
'If you don't like the video, don't watch it, and if you don't want your kids to watch it, don't let them watch it.'
Social media users also had mixed opinions on the music video.
Some said the video should be kept away from children and compared it to a Playboy photo shoot.
However, some fans defended Smith, pointing out the hypocrisy of similar music videos released by female singers.
The discussion came after GMB host Richard Madeley had to apologize for misgendering Smith on the show.
Sam, 30, is non-binary and uses the pronouns they/them, and Richard accidentally referred to them as 'he.'
Gloria, Sam's fourth studio album, was released on Friday and is their first LP in three years.
Sam revealed on Friday that they were spat at in the street after coming out as non-binary.

GET TOP STORIES VIA INBOX