Updates
Ulrika Jonsson 'flashes nipples that look like tablets on an ironing board'


GET TOP STORIES VIA INBOX
TV presenter Ulrika Jonsson has voiced her support for actress Florence Pugh who recently caused controversy after wearing a sheer pink dress that revealed her nipples on the red carpet.
Jonsson, who has experienced backlash in the past for accidentally exposing her nipples on Instagram, praised Pugh's bravery in embracing her own body.
In an interview with The Sun, Jonsson stated that Pugh "looked the epitome of beauty, class and purity, showing and owning what is biologically and physiologically hers."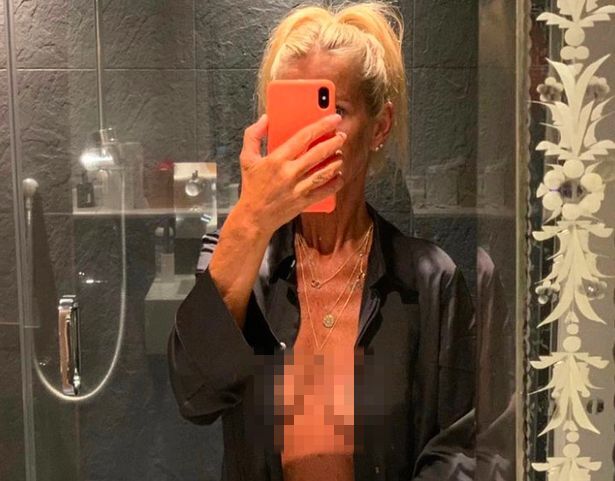 The 54-year-old went on to say that the double standards surrounding the exposure of women's nipples compared to men's is "beyond ridiculous."
Jonsson shared her own experience of having a breast reduction surgery when she was 41, saying it was "one of the best decisions she's ever made."
The star described going against the convention at the time when many women were opting for larger breasts, and said the surgery improved her relationship with her body.
Pugh also responded to the backlash she received after wearing the sheer dress, taking to Instagram to share a statement.
The actress said that she was grateful for being raised in a household with strong, powerful women who taught her to embrace her body.
Pugh wrote, "It has always been my mission in this industry to say 'f*** it and f*** that' whenever anyone expects my body to morph into an opinion of what's hot or sexually attractive."
She continued, "I wore that dress because I know. If being loudly abusive towards women publicly in 2022 is so easy for you, then the answer is that it is you who doesn't know.
"Grow up. Respect people. Respect bodies. Respect all women. Respect humans. Life will get a whole lot easier, I promise.
"And all because of two cute little nipples."
Jonsson echoed Pugh's message, saying that "we're quite happy for men to parade around revealing their saggy breasts," but if a woman does the same, "all hell breaks loose."
The TV presenter said that she can relate to the nasty comments Pugh has received, having been scolded on Instagram for an accidental nip-slip.
Jonsson and Pugh are standing up against the body shaming and double standards that women face, and advocating for women to embrace their bodies, no matter what shape or size.
By taking a stand, they hope to empower other women to do the same and to challenge the notion that women's bodies are not their own.

GET TOP STORIES VIA INBOX