Updates
Big Brother contestant exposes under wear and cleavage


GET TOP STORIES VIA INBOX
Big Brother contestant Chanelle McCleary made quite the entrance on Monday night's episode of the show.
The 24-year-old model, who has previously appeared on Ex On The Beach, wore a revealing dress that showed off her white under wear and a significant amount of cleavage.
As she stood on stage with host Emma Willis, McCleary joked that she was nervous and thought she might "slip" out of her dress.
Willis responded with a shocked "TMI!" before McCleary went on to promise viewers that she would "do some slut drops, shake [her] tit ties and f**k s***t" during her time on the show.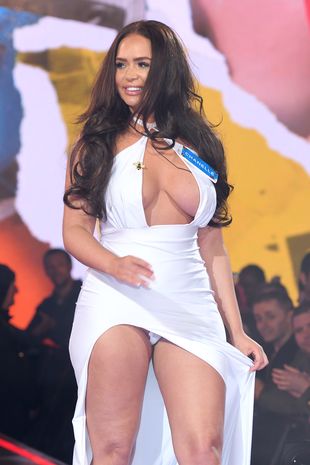 McCleary also revealed that she is currently dating someone, telling Willis that she never thought she would be a "cougar" at the age of 24.
She added that she considers herself an "It" girl and admits to having a fiery personality, saying that she can't help but "blow [her] lid" when someone annoys her.
The brunette beauty has spent a significant amount of money on cosmetic surgery, reportedly spending £15,000 on procedures to enhance her appearance.
She has previously been involved in on-screen fights, including a skirmish with Geordie Shore star Zahida Allen on Ex On The Beach that led to her being booted from the villa.
Despite her outspoken and sometimes confrontational nature, McCleary said that she wants to make the most of her time on Big Brother and have some fun.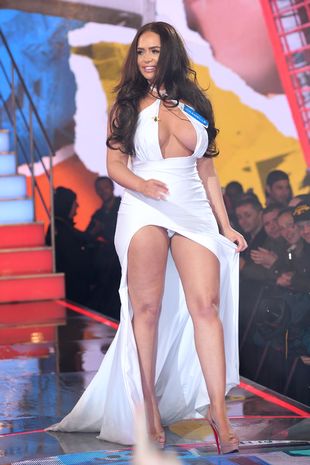 "I want to let down my weave and cause some mayhem!" she said.
It remains to be seen how she will fare on the show and whether she will live up to her promises of causing chaos.
One thing is for certain: McCleary's entrance on Monday night's episode of Big Brother was anything but subtle, and she has already made quite the impression on viewers with her bold fashion choices and no-holds-barred attitude.
Viewers will have to tune in to future episodes of the show to see how McCleary's time on the show progresses.

GET TOP STORIES VIA INBOX