Updates
Winona Ryder was disappointed after kissing Jennifer Aniston in Friends


GET TOP STORIES VIA INBOX
The reception of Winona Ryder's on-screen lesbian kiss with Jennifer Aniston left her disappointed.
Aniston has startling lip-lock sequences with Winona and co-star Lisa Kudrow in an episode of Friends.
After recruiting Winona as a guest star, the show's producers were discussing the lesbian scene in order to enhance viewership.
Winona, on the other hand, felt irritated that viewers were not privy to all of the genuine emotion that went into the scene.
In this episode, Ryder portrayed Melissa Warburton, Rachel's long-lost friend whom she bumped into in Central Park after years apart.
Throughout the chapter, it is revealed that they had a short romance while in college, but one of them refuses to acknowledge it. After a dispute, the problem is settled with both of them kissing, and this is how Melissa professed her love for Green.
This sequence made a significant impression on the public at the time, but for Beetlejuice's protagonist, the outcome may have been better, since the episode's intensity should have been lost.
She explains, "When I saw the episode, all you see is hair and you don't see lips. I was kind of bummed out because we got a couple of chances to do some pretty nice kisses. She's a very good kisser."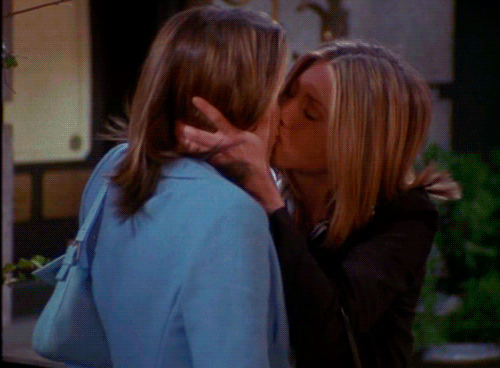 Because same s-x partnerships were not widely acknowledged at the time, it was considered taboo.
The shocking episode opens with Aniston's character Rachel Green revealing to her friends that she had a drunken make-out session in college with Melissa, portrayed by Ryder.
"Rachel's reminiscing turns to frustration when Melissa denies it ever happened. In a shocking move, Rachel grabs Melissa, kisses her smack on the lips in front of Phoebe Buffay (Kudrow) as if to say, 'Now do you remember?' " The kiss jogs Melissa's memory who then declares her love for Rachel. She then apologises and says she only kissed her to prove a point to Phoebe."
There were some doubts about whether the scene would be approved.
"If it gets the all-clear it will be a full-on French kiss," a show source claimed at the time. "Rachel will end up singing the praises of same s-x snogging to her friend Phoebe.
"We expect a lot of men who don't usually see the show to watch Jennifer and Winona in action."
Other television programs have exploited a lesbian kiss to increase viewership.
Brookside's Beth and Margaret, played by Anna Friel and Nicola Stephenson played gay pals and Ally McBeal, played by Calista Flockhart, was seen kissing Ling Woo Lucy Liu.
Jennifer Aniston has a successful career in cinema, especially in romantic comedies, where she took part in various Hollywood film productions, starred in the cult hit terror and comedy film: "Leprechaun" from 1993 where she shared the lead with Warwick Davis, she went on to critical acclaim for her performances in the independent films "She's the One", "Office Space", "Friends with Money" and "The Good Girl".

GET TOP STORIES VIA INBOX