Updates
Sex workers blame Bella Thorne for "Ruining" OnlyFans


GET TOP STORIES VIA INBOX
Sex workers and other video creators who rely on the OnlyFans site for a living are blaming actress Bella Thorne for modifications to the company's terms of service, which include payment restrictions and holds.
Last week, the former Disney actress launched an OnlyFans profile, earning $1 million on her first day and a total of $2 million so far.
According to the Los Angeles Times, she stirred anger when she charged $200 for a 'naked' shot in which she was not truly naked, and customers requested refunds.
Only Fans later imposed payment restrictions of $50 on pay-per-view postings, down from a prior ceiling of $200, and a $100 cap on tips on Thursday, according to content providers.
The corporation also put a hold on payments, which means some overseas creators would have to wait 30 days to get paid.
The 22-year-old former Disney Channel star-turned-musician-turned-director apologized on Saturday to anyone she "hurt" after joining the site. Thorne stated she was meeting with the firm "about the news restrictions" in a series of tweets, and that her motivation for joining was to "help with the stigma surrounding sex."
OnlyFans is a site where content producers sell their work to members, and it's become known as a safe way for sex workers to make money.
Some sex workers, who rely on the site for a large amount of their revenue, blame Thorne for the new regulations that have limited their earning potential.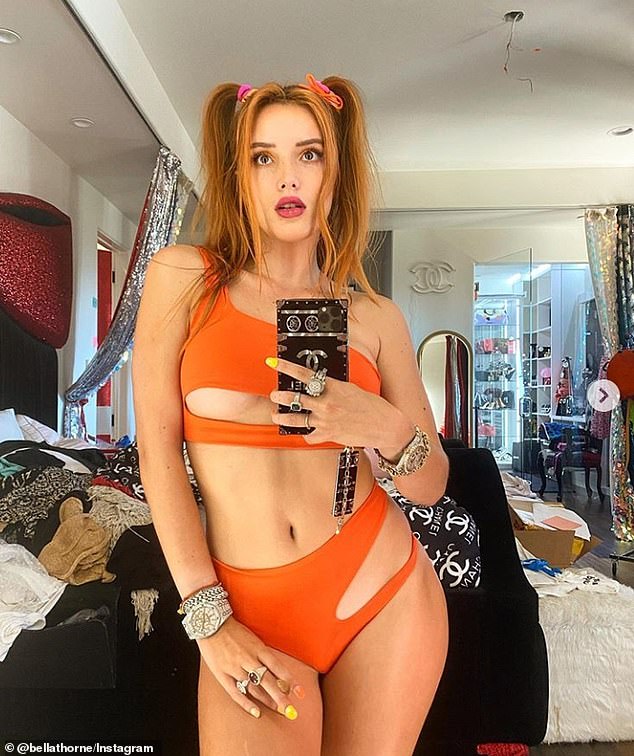 Since then, the firm has disputed that the policy change was prompted by a single user.
Thorne joined OnlyFans on August 19 but stated that she would not be "doing nudity" on her account.  Thorne stated that she will donate her proceeds to charity as well as her production firm. She also stated that the incident was part of her research for a documentary she was working on with director Sean Baker.
OnlyFans said in a statement that the adjustments were not made in response to a single user and that the company seeks to give the greatest platform for its users.
"Transaction limits are set to help prevent overspending and to allow our users to continue to use the site safely," according to the statement. "We value all of the feedback received since this change was implemented and we will continue to review these limits."
Thorne wrote on Twitter:
'I wanted to bring attention to the site, the more people on the site the more likely of a chance to normalize the stigmas, And in trying to do this I hurt you. I have risked my career a few times to remove the stigma behind sex work, porn, and the natural hatred people spew,' she said.
'Ps. I'm meeting with only fans about the new restrictions to find out why!!! This is f***ed up and I'm sorry comment any ideas or concerns you want brought up to OF!! and send me your links and a pic so I can promote you guys,' she said.

GET TOP STORIES VIA INBOX