Updates
Keanu Reeves Gets Inducted Into Canada's Walk of Fame By 'Matrix' Co-Star Carrie-Anne Moss


GET TOP STORIES VIA INBOX
Keanu Reeves, a well-known actor, has been formally inducted into Canada's Walk of Fame.
On Saturday, "The Matrix" co-star and fellow Canadian Carrie-Anne Moss inducted the 57-year-old, who was born in Beirut and raised in Toronto, onto the Walk of Fame.
The event was hosted in the San Fernando Valley of Los Angeles, California, rather than in Canada.
Reeves accepted the prize and expressed his gratitude by saying:
"I would not be here if not for where I came from. Thank you Toronto, thank you Canada. Thank you for all of the experiences, adventure, teaching, support, friendships, and for my life."
The ceremony's press release stated, "Keanu Reeves is an iconic actor, producer, and director who has entertained audiences worldwide for more than three decades."
Reeves was one of ten new members admitted into the Walk of Fame this year, which included "one of Canada's most decorated war heroes to champions in sport, Nobel Laureates, a global business magnate, and iconic names in entertainment."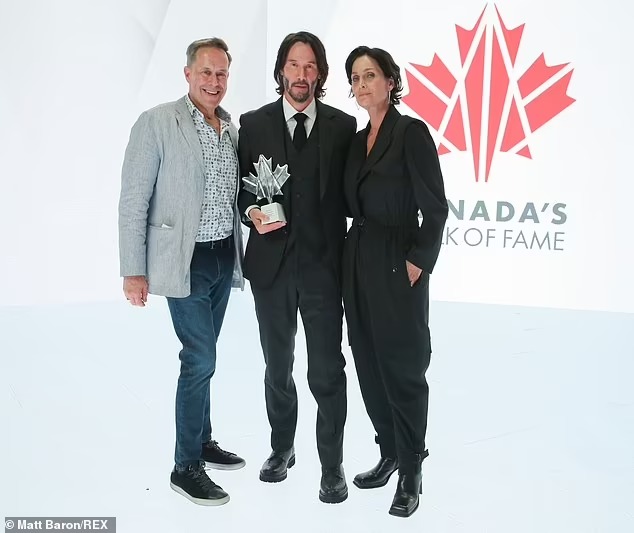 The release stated, 'This year's class of outstanding Canadians are recognized not only for their distinctive accomplishments and successes but for their philanthropy, advocacy, and contributions toward the greater good.'
Salome Bey, Jully Black, Ajay Vrimani, Bruce Cockburn, Laurent Duvernay-Tardif, Graham Greene, Serena Ryder, Romeo Dallaire Damian Warner, and Frederick Banting, Charles Best, John Macleod, and James Collip are among the other entrants.
In a few of days, we'll see Reeves reprising his role as Neo. In The Matrix Resurrections, the actor and Carrie-Anne Moss reprise their roles as Neo and Trinity, respectively. The sequel, directed by Lana Wachowski, stars Jessica Henwick, Jonathan Groff, Neil Patrick Harris, Priyanka Chopra Jonas, and Christina Ricci alongside Lamber Wilson and Jada Pinkett Smith, as well as newcomers Jessica Henwick, Jonathan Groff, Neil Patrick Harris, Priyanka Chopra Jonas, and Christina Ricci. Yahya Abdul-Mateen II also appears as a new Morpheus, who replaces Laurence Fishburne as the character.
"I've never had the chance to play a role 15, 16, 17 years later and that's some of what the film's about. So this idea of a past, and memory, and fiction, and reality, and truth," Reeves recently stated.
On December 22, 2021, the film will be released in cinemas.

GET TOP STORIES VIA INBOX