Updates
Jennifer Lawrence Shows Off Her Baby Bump at 'Don't Look Up' Premiere


GET TOP STORIES VIA INBOX
Jennifer Lawrence debuted her growing baby bump on the red carpet in New York City on Sunday, three months after announcing she and husband Cooke Maroney are expecting their first child.
The Silver Linings Playbook actress attended the NYC premiere of 'Don't Look Up' with the rest of the cast on Sunday. "Don't Look Up tells the story of two low-level astronomers who must go on a giant media tour to warn mankind of an approaching comet that will destroy planet Earth," according to Netflix.
J.Law wore a Dior fringed gold beaded gown that skimmed her developing stomach and had transparent cape-like sleeves that spilled down to the floor for the occasion, showcasing her maternity style. Her emerald-cut engagement ring and a pair of brilliant diamond earrings were the only pieces of jewelry she wore.
Lawrence wore her hair back in a loose chignon and used bronzy highlighter and a soft pink lip to accentuate her pregnant glow.
Don't Look Up stars Leonardo DiCaprio, Meryl Streep, and Jonah Hill, who were among the A-listers in attendance, promoting the comedy ahead of its release later this month.
Lawrence's 37-year-old spouse Cooke was absent from the event. They have been dating since 2018 and were engaged the following year. They later married in a ceremony in Rhode Island in October 2019.
The mom-to-be also flaunted her baby bump at The Late Show with Stephen Colbert, where she donned a black polka dot bodycon dress. When asked what she did during her break during the interview, she responded, "I just had a ton of sex!"
"I'm joking. I cooked a little. The pandemic happened, and then I cooked and I cleaned a lot," she continued.
She said her time off "was really nice."
"I took a break, and nobody really cared and it was quiet. I got to feel like I could become a part of the world again without fanfare."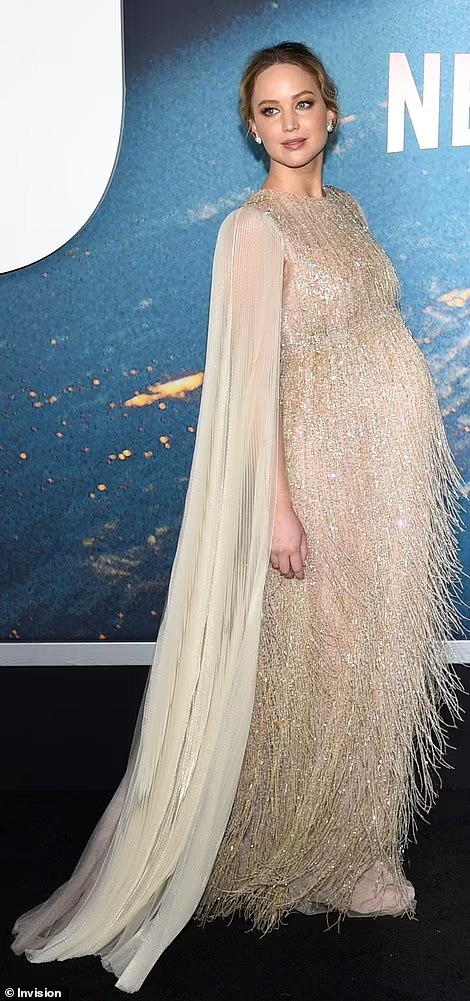 Jennifer discussed her pregnancy to Vanity Fair for the first time last month in an interview.
In the interview, the actress expressed her desire to keep her pregnancy confidential, saying she is "grateful and excited" to become a mother.
She explained: 'If I was at a dinner party, and somebody was like, "Oh, my God, you're expecting a baby," I wouldn't be like, "God, I can't talk about that. Get away from me, you psycho!" But every instinct in my body wants to protect their privacy for the rest of their lives, as much as I can.
'I don't want anyone to feel welcome into their existence and I feel like that just starts with not including them in this part of my work.'
Don't Look Up will be available on Netflix on December 10th.

GET TOP STORIES VIA INBOX