Updates
Prince Harry put His Royal Highness title on daughter's birth certificate


GET TOP STORIES VIA INBOX
On his daughter's birth certificate, Prince Harry listed himself as "His Royal Highness," despite having promised to not use the title after Megxit.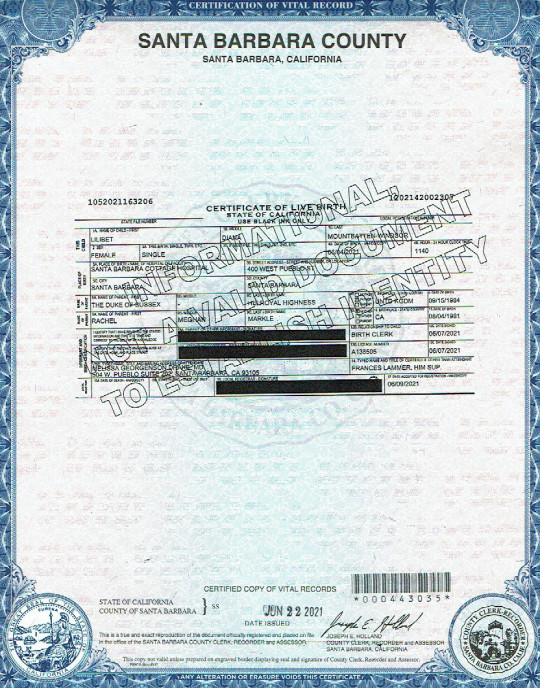 Prince Harry used his formal name, "The Duke of Sussex, His Royal Highness." This title is shorter than his full name, which he stated on Archie's certificate as "His Royal Highness Henry Charles Albert David Duke of Sussex." He described his profession as "Prince of the United Kingdom."
On the paper, HRH was written as Harry's last name, while the Duke of Sussex was put as his first.
The arrangement that saw Harry, 36, and his wife Meghan Markle leave the UK in 2020 stipulated that they would not use the titles when they departed for the United States.
The term – His Royal Highness – was also recently removed from a sign at a Kensington Palace ceremony commemorating Princess Diana's life.
Despite having to use her maiden name on Lili's birth certificate, Meghan continues to utilize the Duchess of Sussex title in other aspects of her life. For instance, the author of children's book, The Bench, is listed as "Meghan, Duchess of Sussex." Meghan is also referred to as the Duchess of Sussex on the Archewell website.
She was listed as Her Royal Highness, The Duchess of Sussex on Archie's birth certificate, but only after the palace forced her to alter it.
Despite the fact that they were no longer using the titles, The Sun reported that they were never really taken away from the couple.
When Megxit was launched last year, the pair said that they would strive toward being "financially independent"
TMZ acquired a copy of the birth certificate, which has been made public in California, the couple's new home state.
Lilibet 'Lili' Diana Mountbatten-Windsor, the Duke and Duchess's daughter, was born on Friday, June 4 at 11:40 a.m. at Santa Barbara Cottage Hospital in Santa Barbara, California. She is named after her great-grandmother, Queen Elizabeth, as well as her late grandmother, Princess Diana. The Duke and Duchess of Sussex have yet to share a picture of daughter Lili.
Lilibet was born less than two months after Philip died at the age of 99. He was married to the Queen for 73 years.
Popular Posts:
MUST READ:

GET TOP STORIES VIA INBOX