Updates
Meghan Markle drops royal titles on Lilibet's birth certificate


GET TOP STORIES VIA INBOX
While Prince Harry decided to use his HRH title on Lilibet Diana's birth certificate, the Duchess of Sussex didn't use hers.
This, despite no longer formally using HRH since the couple quit their royal duties.
The title "His Royal Highness" is still legally part of Harry's name, which is why he had to include it on the certificate.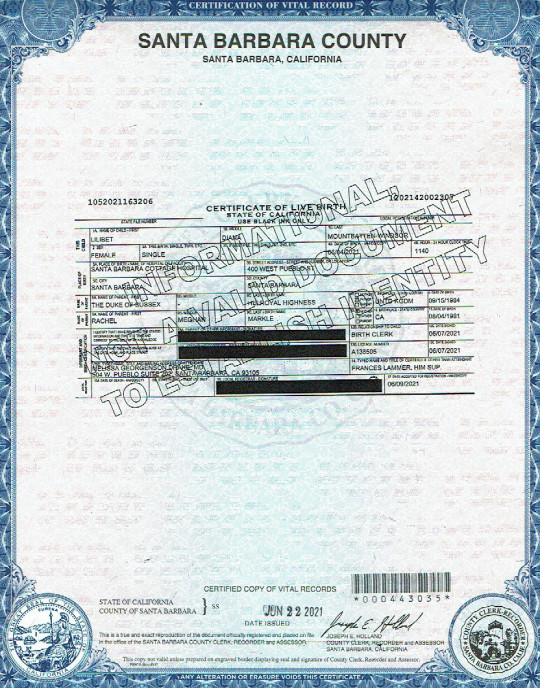 Meanwhile, she previously described herself as "Rachel Meghan Her Royal Highness The Duchess of Sussex" after the birth of their son Archie.
The certificate, obtained by the American tabloid news site TMZ, was issued in Santa Barbara County, California, where the Duke and Duchess live with their two young children. It contains a space for the names of the respective parents as well as the details of the birth, such as the location (Santa Barbara Cottage Hospital) and time of day (11.40am). While the Duchess is simply referred to as 'Rachel Meghan Markle' (her full birth name), Harry is referred to as 'The Duke of Sussex His Royal Highness'.
Their occupations are listed as Prince and Princess of the United Kingdom.
It's worth mentioning that Meghan uses the title "Duchess of Sussex" in other aspects of her life as well. (Like on her children's book, The Bench.) She and Harry have been quiet since the birth of Lili, and have so far only issued a lovely note of gratitude for well wishes on the Archewell website, saying, "On June 4th, we were blessed with the arrival of our daughter, Lili. She is more than we could have ever imagined, and we remain grateful for the love and prayers we've felt from across the globe. Thank you for your continued kindness and support during this very special time for our family."
An Archewell source explained that the paperwork needed Meghan's maiden name, as stated, as well as Harry's legal name, which still contains his royal stylings.
Meanwhile, it comes only months after Meghan and Harry were informed they couldn't use their titles any longer.
A statement from Buckingham Palace on behalf of Harry and Meghan explained: 'The Sussexes will not use their HRH titles as they are no longer working members of the Royal Family.'
Moreover, when a new royal fashion show was launched at Kensington Palace a few weeks ago, Harry was erroneously stylized as HRH in a sign on one of the items on display. It was altered from 'Lent by HRH The Duke of Cambridge and HRH The Duke of Sussex' to 'Lent by HRH The Duke of Cambridge and The Duke of Sussex.'
Popular Posts:
MUST READ:

GET TOP STORIES VIA INBOX