Updates
Cara Delevingne Flashes Bums on Red Carpet – PHOTOS


GET TOP STORIES VIA INBOX
On Sunday, Sept. 20, Cara Delevingne exposed a little more than she intended at the London premiere of Pan.
The model always knows how to turn heads, whether she's kicking it in a khaki camouflage jacket or glamming it up in a power LBD. She stunned in a head-turner of a dress for the Pan premiere in London, which she teamed with caged shoes.
Cara Delevingne wore a thigh-skimming LBD with a beautiful feather texture throughout the skirt, chest, and capped sleeves.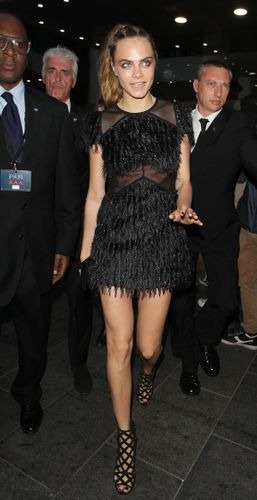 The sultry little piece included translucent sections that revealed her slender waistline and shoulders, giving the look a racier edge.
Her dark blonde hair was pulled back into a high ponytail with plaits going across her scalp, and she wore her make-up in a sexy smoky eye.
As she tried to welcome supporters across a railing, she had a severe wardrobe malfunction. Her feathery little dress began to ride up as she leaned down, exposing her booty.
This was practically impossible to avoid because she was dressed in a very short black feathered mini-dress.
But the free-spirited Englishwoman was all grins later, standing with co-stars Rooney Mara, Hugh Jackman, and Garett Hedlund and passionately rocking her ultra minidress with a black snakeskin fold-over purse and black cage shoes.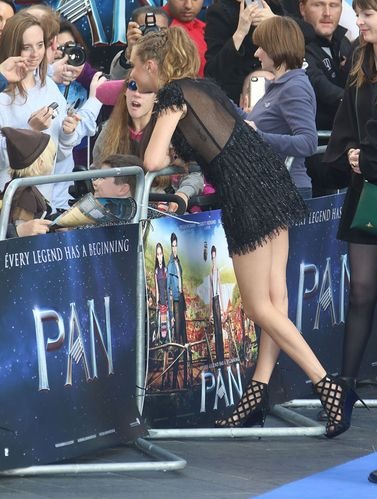 The incident, which was widely reported in the media, caused a stir among fans and critics alike.
Some people praised Delevingne for her bold and daring behavior, while others criticized her for being unprofessional and disrespectful.
In the end, the incident did not seem to have a major impact on Delevingne's career, and she continued to work as an actress and model.
However, it did serve as a reminder of the challenges and pressures that come with being a high-profile celebrity, and the need for caution and professionalism in public settings.
Delevingne is known for her bold and daring personality, and she has often pushed the boundaries in both her personal and professional life. She remains a complex and fascinating figure in the entertainment industry.
Cara Delevingne is known for her unique and bold sense of style, and she has often been featured in the media for her fashion choices. Here are a few examples of newsworthy moments involving Delevingne and fashion:
In 2016, Delevingne made headlines when she wore a daring and unconventional outfit to the Met Gala. The outfit, which was designed by Chanel, consisted of a sheer white jumpsuit and a matching jacket, both of which were covered in intricate embroidery and beading.
Delevingne made headlines when she wore a sheer and revealing dress to the premiere of the film "Vanity Fair" in 2018. The dress, which was designed by Saint Laurent, featured a plunging neckline and sheer panels that exposed much of Delevingne's body.
In 2019, Delevingne made headlines when she wore a rainbow-colored suit to the premier of the film "Her Smell." The suit, which was designed by Prada, featured a brightly-colored plaid pattern and a matching hat, and it was a bold and daring choice for the red carpet.
In Pan, a Peter Pan prequel film, Delevingne portrays a mermaid. Following her major role in the mystery drama Paper Towns, which was released in July, this is her fourth film appearance. She made waves for an embarrassing satellite interview with a local U.S. TV station while promoting it.
Pan, a remake of the legendary Neverland-based fairytale, is expected to be one of the year's biggest films.
According to the Suicide Squad actress, her film career is only getting started. In May, she told Entertainment Weekly, "I wanna f—king Meryl Streep it. I don't know if that's possible. We'll see."
Hugh Jackman, an Australian hottie, plays the major role of Blackbeard, and Cara plays a mermaid. Tiger Lily is played by Rooney Mara, Hook is played by Garrett Hedlund, and Peter Pan is played by Levi Miller, a young up-and-comer.
One thing that many people may not know about Cara Delevingne is that she has struggled with mental health issues throughout her life. In an interview with Elle magazine in 2018, Delevingne revealed that she has been diagnosed with dyslexia, ADHD, and depression.
Delevingne has been open about her struggles with mental health, and she has spoken out about the importance of seeking help and support when needed. She has also been an advocate for mental health awareness and has worked with organizations like the World Health Organization to raise awareness about the importance of addressing mental health issues.

GET TOP STORIES VIA INBOX