Updates
Mila Kunis & Justin Timberlake Grope Each Other at MTV Movie Awards


GET TOP STORIES VIA INBOX
Justin Timberlake appears to be having a good time as a single man.
The singer and Mila Kunis set the bar high by putting on a gropefest on stage when presenting the first golden popcorn at the MTV Movie Awards, brazenly promoting their new film, "Friends With Benefits." The couple did something siblings seldom do: they grabbed each other's most private parts after explaining that they were practically brother and sister.
The two were presenting Twilight actor Robert Pattinson with the prize for outstanding male performance.
Timberlake, 30, told the crowd, "Even though we're in the movie Friends With Benefits, we've never dated."
"We're like brother and sister," Kunis added.
Timberlake stated as he caressed the actress' breasts, "Totally platonic relationship, which is why I can do this."
"And it's why I can do this," Kunis replied, groping the singer/actor's crotch in return.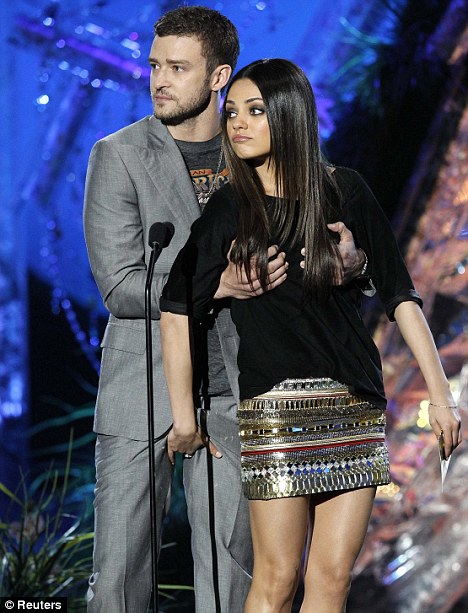 "I think we just found out…what a shameless reference to my penis," Timberlake joked as the two presented the award for Best Male Performance.
30-year-old Justin broke up with his fiancée Jessica Biel in March, and since then, there have been rumors that he is seeing Mila Kunis.
Kunis previously said that she had some difficulty disrobing in front of Timberlake filming the film, which will be released on July 22.
"It's very awkward. I mean, the truth is, we got to have very uncomfortable scenes for two weeks," she told Ellen DeGeneres. "There's like 150 crew men watching and you see each other's bits and pieces. The whole thing is just wrong!"
But, you know, groping is something else entirely, right?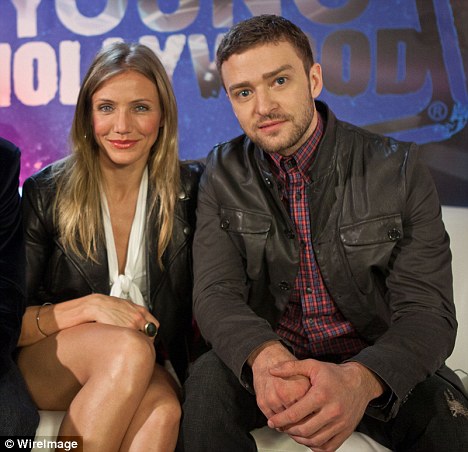 Justin caught up with his ex-friend Cameron Diaz earlier in the day, who is said to have separated from her most recent companion A-Rod.
The couple, who were promoting their film Bad Teacher, appeared to be completely at ease in one other's company, with Cameron's long legs pointing towards Justin.

GET TOP STORIES VIA INBOX